Alabama Guide
Quick Facts
| | |
| --- | --- |
| Capital: | Montgomery |
| Population: | 4,822,023 |
| Nicknames: | Heart of Dixie; Yellowhammer State; Cotton State |
| Resources: | Official Website |
About
Located in Southeast U.S., Alabama is unofficially known as the Yellowhammer State, after its state bird. Mobile, AL, is the state's oldest city, while it's largest is Birmingham. The state is home to "Natural Bridge" rock, the longest natural bridge east of the Rockies, located just south of Haleyville, as well as four national forests and various historical sites.
Each year, approximately 20 million people visit the state, with more than 100,000 of those tourists coming from other countries. Those tourists experience something special when they step into Alabama, where warm welcomes, fond goodbyes, firm handshakes, and big smiles are all staples of the state's culture. Their southern hospitality extends to everyone, from near or far, in an attempt to make them feel like they're at home.
Sports
As the childhood home of track star Jesse Owens and the place where the first integrated professional baseball game was played, Alabama loves its sports. The Alabama Sports Hall of Fame towers three stories high and immortalizes sports icons like Jesse Owens, Hank Aaron, Joe Louis, and Willie Mays. Although Alabama is the second-most populous U.S. state without a major professional sports league franchise, the state has several professional and semi-professional sports teams.
The state may not have a major professional sports team, but it does have four of the world's largest stadiums (based on seating capacity). Those are: Talladega Superspeedway in Talladega; Bryant-Denny Stadium in Tuscaloosa; Jordan-Hare Stadium in Auburn; and Legion Field in Birmingham. Many NASCAR events are hosted at the Talladega Superspeedway and, with 143,000 seats, it's the 13th largest stadium in the entire world.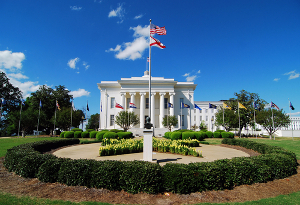 The Alabama Capitol building
Teams include: Alabama Hammers; Birmingham Barons; Tragic City Rollers; Dixie Derby Girls; Birmingham Sabers; Montgomery Biscuits; Huntsville Stars; Mobile BayBears.
Concerts
Blues, gospel, rock, country — all of these genres have had a major presence in Alabama. Musical icons from each genre have hailed from this state, including country superstar, Hank Williams Sr and "Father of the Blues" W.C. Handy. Live music is a "way of life" in Alabama. While country music has a big place in the state, many of today's biggest musical acts stop in the state on their U.S. tours. Many of its concert halls and music venues have gone on to become world-class and world-renowned.
Venues include: Birmingham Jefferson Convention Complex; Bottletree; Carver Theatre; The Nick; Ona's Music Room; Speakeasy; Verizon Wireless Music Center; Crossroads; Flying Monkey Arts Center; Lowe Mill; Merrimack Hall; Sammy T's Music Hall; Vertical House; Von Braun Center; Mobile Civic Center.
Theater
In Birmingham, the Alabama Theatre is located on 3rd Avenue North and has become a staple of the town. The venue launched in 1927, and since then, it's been home to everything from concerts, movies, silent filmes, theater shows, beauty pageants, and even the Mickey Mouse Club. In the 1970s, the Alabama Chapter of the American Theater Organ Society began maintaining the venue's organ. The organization went on to create a fund-raising effort to buy — and save — the entire theater. It was renamed the Alabama Theatre for the Performing Arts and, in 1993, the Alabama was designated the official state historic theater of Alabama. Additionally, each year, Alabama hosts the Shakespeare Festival in Montgomery. The festival draws more than 300,000 visitors annually for 14 performances, three of which are works by William Shakespeare.
Venues include: Alabama Theatre; Mobile Saenger Theatre.
Dining
Food festivals comprise much of Alabama's dining experience. With blueberry, peach, shrimp, wine, and barbecue fests, there's something for everyone. Because the state is located near the coast, seafood is abound. And then there are the food trails. The North Alabama Food Trail takes tourists to sample the famous white barbecue sauce, Southern fried catfish, hushpuppies, slaw, and okra. Lower Alabama Food Trail features stops in Monroeville, Mobile, and Daphne, for tastes of po' boys, smokey pulled pork, and delectable chocolate.
There's also the Alabama Taste of the Magic City Food Trail, with six stops that allow a create-your-own dining experience; the Alabama Heartland Food Trail, offering everything from college town eats to fresh produce from local farms; and one of the longer food trails, Alabama Heartland Trail, spanning 350 miles — the perfect two or three-day road trip.
Additional Resources: For a list of restaurants, try Alabama Travel. For more on Alabama dining, read up on their cuisine and get restaurant recommendations.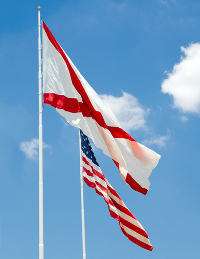 State flag
Other Attractions
Among Alabama's major cities are Birmingham, where tourists can retrace the Civil Rights Movement, sample delicious good, and explore the state's largest zoo; Huntsville, with destinations like U.S. Space & Rocket Center to Monte Sano State Park; Mongomery, which offers historical sites such as Rosa Parks Museum, the Hank Williams Museum and the renowned Alabama Shakespeare Festival; and Mobile, home to the original Mardi Gras, and the historic USS Alabama.
Year-round, Alabama visitors can enjoy a plethora of festivals. In the summer, there's the Blueberry Festival (in Brewton), the Riverfest (a two-day music festival in Gadsden), and the Spirit of America Festival (the area's largest free patriotic event, with live music, children's activities, and a massive fireworks display).
For something fun, quirky, and with a huge cash prize, check out the Alabama Deep Sea Fishing Rodeo, which offers more than $400,000 in prizes. Fall ushers in things like the state Renaissance Faire, food and wine festivals, and Oktoberfest, while winter offers holiday-themed gatherings, and spring brings various arts and music events.
For art lovers, be sure to check out the stunning handmade quilts of Gee's Bend. The women behind the quilts have gone on to not only become recognized nationally, but globally, for their impeccable work. ave made global celebrities of the women from this isolated town, while folk art painters across the state are quickly becoming celebrated names in the art world as well. In Dothan, there's the ArtVentures gallery, an interactive art and sensory experience.
Additional Resources: Find information about year-round events in Alabama or check out the sites and places to visit.
Transportation
Most in Alabama travel by car, as there are five major interstates and four toll roads. However, Amtrak has a daily passenger train that goes through the state. Those who fly into the state will arrive via Birmingham-Shuttlesworth International Airport, Huntsville International Airport, Dothan Regional Airport, Mobile Regional Airport, Montgomery Regional Airport, and Muscle Shoals – Northwest Alabama Regional Airport. Lastly, the Port of Mobile, which is the state's only saltwater port, provides waterway access from the Gulf of Mexico to the Midwest. It's currently 9th-largest in the U.S.
Additional Resources: For travel information, the state's official website should be your first stop.