Alaska Guide
Quick Facts
| | |
| --- | --- |
| Capital: | Juneau |
| Population: | 731,449 |
| Nicknames: | The Last Frontier |
| Resources: | Official Website |
About
Many fall in love with Alaska for its breathtaking sights. With spectacular views of nature and prolific wildlife, the state is easily among the most beautiful in the U.S.
Visitors can explore everything from the Gold Rush trail to glaciers (of which Alaska has more than 100,000) to thriving populations of North American wildlife. Of the 20 highest peaks in the United States, 17 are in Alaska, including Mount McKinley, the highest peak in North America. Alaska also offers forests, active volcanoes, tens of thousands of miles of tidal shoreline, and more than three million lakes.
Much of Alaskan culture involves the great outdoors. The Iditarod Trail Sled Dog Race has gained global recognition. The race, which is an annual long-distance sled dog race, starts in Anchorage and ends in Nome. Alaska hosts several other events as well, including World Ice Art Championships in Fairbanks, the Alaska Hummingbird Festival in Ketchikan, the Sitka Whale Fest, and the Stikine River Garnet Fest in Wrangell.
Sports
Alaska's sporting teams and events are typically based out of Anchorage, the state's biggest city. There, teams like the Alaska Aces (hockey), Alaska Dream (basketball), and Anchorage Bucs play at venues like the Sullivan Arena and Mulcahy Stadium.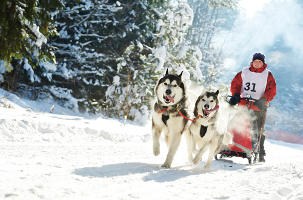 The Iditarod Trail Sled Dog Race
While there are no professional Alaskan sports teams, the University of Alaska Anchorage is a member of the NCAA and has Division I teams in gymnastics and hockey. Several sporting events are held here as well, such as Sadler's Ultra Challenge wheelchair race; the Great Alaska Shootout, an annual NCAA Division I basketball tournament featuring universities from the U.S.; and the Iditarod Trail Sled Dog Race.
Teams include: Alaska Aces; Alaska-Anchorage Seawolves; Alaska Wild; Alaska Dream; Anchorage Bucs; Anchorage Glacier Pilots.
Concerts
Much of the music in Alaska is influenced by the music of Alaskan Natives and folk music. The Alaskan music scene includes various established music festivals. The Alaska Folk Festival, the Fairbanks Summer Arts Festival, the Anchorage Folk Festival, the Athabascan Old-Time Fiddling Festival, the Sitka Jazz Festival, and the Sitka Summer Music Festival are among them.
Even singer-songwriter Jewel as ties to Alaska — it's her home state. The Anchorage Symphony Orchestra is a staple of Alaska, as well as the Fairbanks Symphony Orchestra and Juneau Symphony, both of which are notable for their work.
Venues include: Atwood Concert Hall; The Dena'ina Civic & Convention Center; George M Sullivan Sports Arena.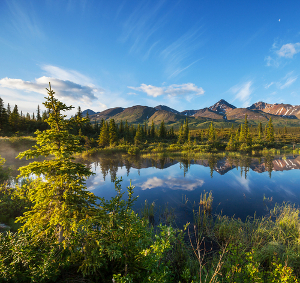 Sprawling Alaskan mountains
Theater
Theater in Alaska takes form through youth, dance, community, and family organizations. Fairbanks Shakespeare Theatre provides high-quality performances of Shakespearean works since 1992. Aimed specifically at kids and families, Alaska Junior Theatre is a nonprofit organization that makes theater and arts appealing to young children with puppet shows, musical performances, and plays. Alaska Dance Theatre, based in Anchorage, premiere nonprofit dance organization in Alaska.
Each year, the Anchorage Concert Association helps to bring the biggest Broadway shows to Anchorage. For the 2013-14 season, shows include "Cirque Dreams Holidaze," "West Side Story," "The Addams Family," and "Memphis." As for opera, Anchorage Opera is currently the state's only professional opera company. However, there are several volunteer and semi-professional organizations in the state, too.
Venues include: Alaska State Fair Borealis Theatre; Atwood Concert Hall.
Dining
Because of its proximity to the water, Alaskan cuisine tends to feature many seafood dishes, including salmon, halibut, and king crab, all of which are favorites with tourists from all over the world. A growing local food movement in Alaska features locally sourced produce, seafood, and game — all of which are featured on restaurant menus across the state. A bustling beer scene is paving its way in Alaska, too. Sample a number of handcrafted beers from local breweries, brewpubs, festivals, tastings, tours, and other special beer-related events across Alaska.
Additional Resources: For a list of restaurants, try Travel Alaska. For the best Alaskan restaurants, check out UrbanSpoon.
Other Attractions
Fishing, day cruises, theater shows, sightseeing, hiking are all popular things to do in Alaska. Day excursions and outdoors activities provide tourists with a chance to experience Alaska how it was meant to be. There are plenty of opportunities to get down and dirty in the rugged outdoors, but there are also options to tour the state from the safety of a train. In fact, Alaska Railroad provided a perfect opportunity to sight see.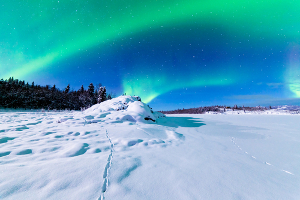 Northern Lights
Alaska Railroad offers three main types of sight seeing tours offered: Coastal Classic, where the emphasis is on the marine ecosystem and a chance to see animals like Puffins; Denali Star, which features chances to see and photograph wildlife and tours that stop and allow guests to hike,; and Glacier Discovery, for viewing the state's stunning icebergs.
Alaskan winters bring about a slew of new events and activities as well. Among the state's most popular winter activities are dog mushing, snowboarding and skiing, snowshoeing, snowmobiling, and viewing the northern lights.
Additional Resources: Find information about outdoor excursions in Alaska or check out Travel Alaska's list of things to do.
Transportation
Despite what many believe, there are plenty of ways to get to and around Alaska, even though it's not part of the contiguous U.S. Sometimes it just takes a little creativity. Cities that aren't served by road, sea, or river can still be reached by foot, air, dogsled, or snowmachine — it's part of what makes Alaska so charming. A well-developed ferry system services the southeast cities, while larger areas can rely on roads and cars. But the quirkiest way to get around Alaska is certainly by dogsled. Although it's used less frequently today than in decades past, it is still an option — and who doesn't love dogs?
Additional Resources: For sightseeing and travel information, Arizona Railroad should be your first stop. Flying in? It's Alaska Air you need.