Arizona Guide
Quick Facts
| | |
| --- | --- |
| Capital: | Phoenix |
| Population: | 6,553,255 |
| Nicknames: | The Grand Canyon State; The Copper State |
| Resources: | Official Website |
About
As one of the "Four Corners" states, Arizona shares borders with New Mexico, Utah, Nevada, and California. It also abuts the Mexican states of Sonora and Baja California. Although most associate dry deserts with Arizona, that's only partially true. Some parts of Arizona have forests with pine, spruce, and Douglas fir trees, some offer mountain rangers, and some even get snowfalls significant enough to warrant ski resorts, found in Flagstaff and Alpine.
Arizona is also home to the Grand Canyon, the state's most famous land mark and one of the most visited places in the entire U.S. In addition to the Grand Canyon National Park, there are several national forests, national parks, national monuments, and a well-preserved meteorite impact site.
Sports
Arizona is rife with golf courses, making it the perfect place for the PGA Tour to stop. Two of the most notable stops are the Phoenix Open, usually at the TPC of Scottsdale, and the WGC-Accenture Match Play Championship in Marana. Various styles of courses, types of terrain, and difficulty level are represented in the Arizona golf courses, of which they have more than 300.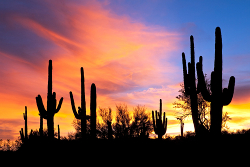 Sonoran Desert
Many Major League Baseball teams host their spring training in Arizona each year, including teams like the Arizona Diamondbacks, the Chicago Cubs, the L.A. Dodgers, and the Cincinnati Reds. Spring training has become a tradition in Arizona, dating back to 1947, even before the state had its own MLB team. Because many former and retired MLB players choose to live within the state, baseball is a prominent sport in Arizona.
College sports are big in Arizona, and it's no secret that Arizona State University and the University of Arizona are rivals. Their rivalry dates back even prior to Arizona becoming a state — undoubtedly the oldest rivalry in the NCAA — the two compete each year in the "Duel in the Desert," the annual football game between the schools.
Teams include: Arizona Cardinals; Phoenix Suns; Arizona Diamondbacks; Phoenix Coyotes; Arizona Rattlers; Arizona Sundogs; Phoenix Mercury; Phoenix FC; FC Tucson; Arizona Storm; Real Phoenix FC; Tucson Padres; Yuma Scorpions
Concerts
Arizona has its claim to musical fame in that it's frequently featured in many country songs, like George Straits "Oceanfront Property" and Jamie O'Neals' "There Is No Arizona." Other artists, many who aren't country, have also referenced the state in their songs. But the state's growing music scene has helped launch the careers of bands like The Gin Blossoms, Jimmy Eat World, Michelle Branch, Chester Bennington (the lead singer of Linkin Park), Dierks Bentley, and Jordin Sparks. Its heavy metal scene is prominent as well.
Venues include: Audrey Auditorium; Scottsdale Center for the Performing Arts; Chandler Center for the Performing Arts; Del E. Webb Center for the Performing Arts; Celebrity Theatre; Symphony Hall; Tempe Center for the Arts
Theater
Community theater has found its home with companies like Stagebrush Theatre, Herberger Theater Center, and Phoenix Theatre. The latter is the oldest theater company in Arizona and offers two theaters, one for adults and one for children. MainStage theater features dramas and musicals, while Cookie Company Theater for Youth performs in the Little Theatre.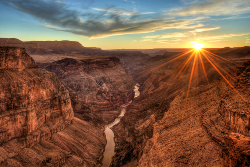 Grand Canyon
Old Bisbee Repertory Theater is where the musical comedy Bisbee Ore Bust originated; it continues to be a source of pride for the area. Teatro Bravo! even offers and produces plays in English or Spanish, most of which focus on aomplex portrait of U.S. Latino and/or Latin American populations of Arizona. It's an excellent resource for Latino and Latina actors, directors, playwrights, and designers.
Venues include: Mesa Arts Center; Stagebrush Theatre; Orpheum Theatre; Arizona Broadway Theatre; Broadway Palm Dinner Theatre; Phoenix Theatre; Old Bisbee Repertory Theater; Herberger Theater Center;
Dining
Arizona has some of the oldest documented food traditions in North America — and they are still alive and well. Farmers continue to grow and cultivate crops in corn and squash, a practice dating back more than 4,000 years. The state prides itself, however, on its unique dishes, including saguaro and prickly pear cacti dishes (used in barbecue sauce, jellies, salsa, candy, and syrup); Navajo-Churro sheep, the oldest surviving bread of sheep (dating back to the mid-1600s); and Mesquite pod flour, a sweet flour that can be substituted for refined sugar (thereby increasing the protein content of muffins, cookies, breads and tamales. Due to the state's proximity to Mexico, Mexican cuisine is immensely popular as well.
Additional Resources: For a list of restaurants, try Arizona's Resturant Guide. Breweries can be found here and wineries here.
Other Attractions
At the Grand Canyon alone, there is plenty to do. The site is so magnificent that it is consider one of the Seven Natural Wonders of the World. The Grand Canyon is 277 miles long, and exposes nearly two billion years of the Earth's geological history. Nearly five million people stop in awe to see the canyon each year, most from the site's most accessible area, the South Rim. But venturing further into the canyon is possible too, as the park offers lodging, campgrounds, food, river trips, hiking, mule trips, and even guided tours.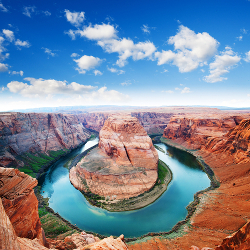 Horseshoe Bend
Other natural sites can be found around the state as well. The Wave is a sandstone rock formation nestled between the Arizona and Utah border on the slopes of the Coyote Buttes, while Horseshoe Bend is part of the Colorado River located near Page, Arizona.
Outdoor events, including biking, hunting, kiking, and hot air ballooning, are prevalent in Arizona. Tourists can discover Latino and Hispanic culture, American Indian history (like the Northern Arizona Native American Culture Trail), spas, shopping, and nightlife opportunities are all part of the Arizonan experience.
Additional Resources: Find information about things to do or check out an events calendar.
Transportation
Most in Arizona travel by way of car across its six interstates and numerous U.S. routes. Public transportation systems are popular in Phoenix, Tucson, Yuma, and Flagstaff. Phoenix also has a light rail system, which connects central Phoenix to nearby cities Mesa and Tempe. Airports include Phoenix Sky Harbor International Airport; Tucson International Airport; Prescott Municipal Airport; and Flagstaff Pulliam Airport.
Additional Resources: For flights, try Sky Harbor. For all other travel information, the state's official website should be your first stop.