Arkansas Guide
Quick Facts
| | |
| --- | --- |
| Capital: | Little Rock |
| Population: | 2,949,131 |
| Nicknames: | The Natural State; The Land of Opportunity |
| Resources: | Official Website |
About
In Arkansas, residents are known as Arkansans, Arkansawyers, or Arkansawians. Whatever the case, the state is home to historical sites, numerous national parks, and delicious food. The Ozark Folk Center is an Arkansas living history state park. It's located in Mountain View, Arkansas, and is dedicated to preserving and presenting Ozark cultural heritage and tradition to the public.
As the largest city in Arkansas, Little Rock is also the state capital, and among the eight cities with a population of more than 50,000. The state is not only the setting for famed author Maya Angelou's classic novel "I Know Why the Caged Bird Sings," but boasts an old mill replica that was featured in the opening shot of the film "Gone with the Wind."
Sports
Hunting, fishing, football, and baseball are among the most popular sports in Arkansas. In 1915, the state created the Arkansas Game and Fish Commission to help regulate the amount of hunting. These days, hunting duck and deer by bow or gun is wildly popular, while fishing takes place mainly in various reservoirs across the state.
College football is especially renowned in Arkansas and its grown since it began in 1894 with the University of Arkansas created its first team. The major team in the state at the time was the Razorbacks, for which "Calling the Hogs" — the university cheer — first originated. The Razorbacks have maintained their beloved public image.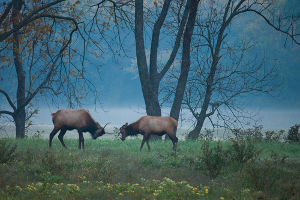 Ozark Folk Center
Arkansas is also home to two minor league baseball teams, both of which compete in the Texas League. The Arkansas Travelers play at Dickey-Stephens Park in North Little Rock, and the Northwest Arkansas Naturals play in Springdale's Arvest Ballpark. Previously, the state hosted spring training in Hot Springs, but that halted in the 1920s.
Teams include: Arkansas Razorbacks; Arkansas Glaciercats; Arkansas RiverBlades; Arkansas Travelers; Northwest Arkansas Naturals.
Concerts
In Arkansas, native music ranging from blues of West Memphis to rockabilly, bluegrass, R&B, gospel, and folk tunes are immensely popular. Several festivals across the state support local sounds, including King Biscuit Blues Festival; Bikes, Blues, and BBQ; Riverfest; and The Ozark Folk Festival. There are four official state songs, two politicians have even mixed music in with their political careers. Former president Bill Clinton, of Arkansas, played the saxophone and performed "Heartbreak Hotel" on The Arsenio Hall Show during the 1992 presidential election, while Mike Huckabee, 54th governor, plays bass, and his campaign during the 2008 presidential election featured cover song performances by his band Capitol Offense.
Arkansas Music Pavilion located in Fayetteville is easily one of the biggest venues in the state. Known as "AMP," the venue has hosted such concerts as ZZ Top, Queens of the Stone Age, and various summer music festivals. Regional orchestras and choirs have made their claims as well. The Arkansas Symphony Orchestram, which was founded in 1966, currently has an extensive outreach and education program. In 2012, George Takei performed with the group in a Holocaust memorial.
Venues include: Arkansas Music Pavilion; Symphony Orchestra of Northwest Arkansas; Revolution Music Room; First Security Amphitheater (formerly Riverfest Amphitheatre); First Security Amphitheater (formerly Riverfest Amphitheatre).
Theater
The state of Arizona offers opportunities for community theater, traveling Broadway shows, and ballet companies. The largest non-profit professional theater company, the Arkansas Repertory Theatre, was founded in 1976. It has produced more than 300 shows, including 40 world premieres. It's here that touring Broadway productions like Les Miserables typically are staged. Smaller venues, like TheatreSquared (also known as T2), serve the local community as well.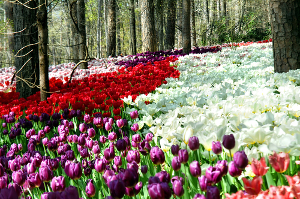 Tulips in Hot Springs, Arkansas
Arkansas Shakespeare Theatre has quickly become one of the state's most revered. The theater group stages Shakespearean plays, as well as other productions, most prominently in its summer festival in Conway. The theater has even been featured in the New York Times. For children, the Arkansas Arts Center is an art museum with a children's theater. while opera is represented through Opera in the Ozarks at Inspiration Point and Opera in the Rock.
Venues include: Verizon Arena; Walton Arts Center; Arkansas Festival Ballet; Lily Peter Auditorium; Alma Performing Arts Center; Royal Theatre; Community Theatre of Little Rock; Robinson Center Music Hall
Dining
Arkansas cuisine includes delicious southern hospitality cooking. BBQ fare is among the nation's finest in Arkansas. It was there that the first fried dill pickles were first made and sold. Now, festivals, fresh farm foods, wineries, breweries, and even upscale dining can be found around the state. But many might enjoy trying their food out on the water. Dinner and luxury riverboat cruises offer a chance to sightsee, while also enjoying some great food.
Additional Resources: Interested in a riverboat cruise? Here are a few to check out. For more information about Arkansas dining, check out this events list.
Other Attractions
National parks are an excellent way for visitors to not only see the state, but to experience it. Among the most popular are Arkansas Post National Memorial at Gillett; Blanchard Springs Caverns; Buffalo National River; and Fort Smith National Historic Site. Many choose to visit Arkansas are Hot Springs and Eureka Springs, stunning natural sites. El Dorado, Camden and Magnolia are three south Arkansas communities are known for their charming downtown areas. The old mill replica, located in North Little Rock just a ways from McCain Mall, is also a draw, as it was featured in the 1939 film "Gone with the Wind."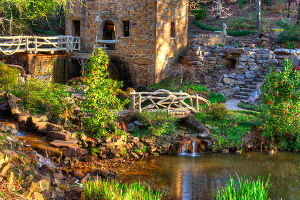 Old Mill replica featured in "Gone with the Wind"
For uniquely Arkansas sites, try Bathhouse row, which has been described as "the grandest collection of bathhouses of [their] kind in the nation"; Crater of Diamonds State Park, where visitors can dig for diamonds, camp out, watch wildlife, or check out its water park; Clinton Presidental Library, which contains the largest collection of presidential papers and artifacts in U.S. history, as well as an authentic replica of the Oval Office and the Cabinet Room; or go digging for quartz crystals in the Ouachita Mountains of west-central Arkansas.
Additional Resources: Find information about things to do in Arkansas or check out all you need to know about Arkansas state parks.
Transportation
The Arkansas State Highway and Transportation Department has in charge of all Arkansas transportation. With its headquarters in Little Rock, the department oversees several interstates (including the nation's third busiest trucking corridor, Interstate 40). A railroad track, divided among 26 different railroad companies, has nearly 3,000 miles of tracks running through the state, while rivers are also used for transportation and commerce. Four airports — Little Rock National Airport, Northwest Arkansas Regional Airport, Fort Smith Regional Airport, and Texarkana Regional Airport — service the state as well.
Additional Resources: For flights, try Bill and Hillary Clinton National Airport of Little Rock. For all other travel information, the state's official website should be your first stop.