Phoenix Guide
Quick Facts
| | |
| --- | --- |
| Located in: | Arizona |
| Population: | 1,469,471 |
| Nicknames: | Valley of the Sun; The Valley |
| Resources: | Official Website |
About
Although the economy in Phoenix, AZ was one built on the "5Cs" (copper, cattle, climate, cotton, citrus), the city is now bustling with people and businesses, including several Fortune 500 companies. Phoenix, nestled in central Arizona, is part of the Sonoran Desert and its residents are known as Phoenicians. Famous Phoenicians include several U.S. politicians, such as Barry Goldwater, John McCain, and Sandra Day O'Connor.
Theater
Herberger Theater Center in Phoenix houses three performance spaces, as well as resident thespian companies Actors Theatre of Phoenix and Arizona Theatre Company. The latter, ATC, has the largest seasonal subscriber base in Arizona performing arts. Its performances go back and forth between being held at the Herberger Theater Center in downtown Phoenix and the historic Temple of Music and Art in Tucson. More than 130,000 annually attend performances by Arizona Theatre Company, which has been around for more than 45 seasons.
Phoenix Metropolitan Opera performs at Orpheum Theatre, while Phoenix Symphony Orchestra, Phoenix Youth Symphony Arizona Opera, and Ballet Arizona performances typically take place at the Phoenix Symphony Hall.
Venues include: Central Florida Ballet, Phoenix Ballet, Phoenix Shakespeare Theater, Phoenix Repertory Theatre, Mad Cow Theatre, and IceHouse Theatre in Mount Dora
Concerts
Many of Arizona's music venues are located in and around Phoenix, including U.S. Airways Center and the Comerica Theatre. Big name acts like Chicago, Depeche Mode, Bruno Mars, John Mayer, Rascal Flatts, and Mumford and Sons have all stopped in Phoenix on their national tours. Several musical acts have hailed from the city as well, including Stevie Nicks, Wayne Newton, Jordin Sparks, and Dierks Bentley.
Venues include: U.S. Airways Center; Comerica Theatre; Trunk Space; Space 55; Modified Arts
Sports
Golf is probably the most popular participant sport in Phoenix. Many residents dabble in it, and why shouldn't they? There are, after all, eight golf courses in the city of Phoenix alone. In terms of professional sports, four major sports league teams call Phoenix home, although only two of them actually have the city in their names. Representing Phoenix in the NBA is the Phoenix Suns, a team that was the city's first big franchise. In the WNBA, the Phoenix Mercury was part of the original eight teams to launch the organization. Now, both teams play at the U.S. Airways Center..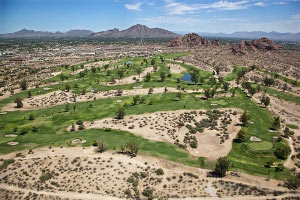 Papago Golf Course
The Arizona Cardinals, a team that plays in the Western Division of the NFL, came to Phoenix back in 1988, although the team has never played in the city itself. They typically play in Glendale at the University of Phoenix Stadium, which is also the site of the annual Fiesta Bowl (part of the BSC). Prior to that, the Cardinals played in Tempe, using the stadium at Arizona State University.
Because of the warm weather, 15 MLB teams do their spring training here, including Phoenix's own Arizona Diamondbacks. What began as an expansion team in 1998 turned into the Arizona Diamondbacks, now part of MLB's west division. The Diamondbacks have defeated the Yankees to take the World Series in 2001, proving that they are a force to be reckoned with. Their success made the Diamondbacks the first professional team to win a national championship in the entire state of Arizona. They were also the youngest expansion franchise in all of U.S. professional sports to nab a championship.
Several NASCAR auto race events happen in Phoenix each season, too, as well as boat and drag racing. Other sports teams include, the Arizona Rattlers (arena football), Phoenix Coyotes (NHL), and Phoenix Flame (basketball), among others.
Teams include: Arizona Cardinals; Arizona Diamondbacks; Phoenix Suns; Phoenix Coyotes; Phoenix Mercury; Arizona Rattlers; Arizona Scorpions; Arizona Storm
Dining
Thanks to a large Latino population, Phoenix is known for its impeccable, authentic Mexican food. Mexican restaurants can be found all over the city, with the choices of where to dine feeling seemingly endless. A recent population increase has added several other cuisines to the mix, too, including Korean, Brazilian, and French fare.
Additional Resources: Find OpenTable's Best Phoenix restaurants or find a review of the top 10 places to eat.
Other Attractions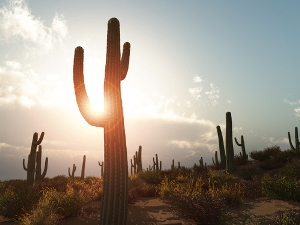 Phoenix has plenty of cacti
Outdoor activities are big in Phoenix, with parks and water parks among some of the most prominent. Wet 'n' Wild Phoenix and Oasis Water Park at the Arizona Grand Resort are water parks in Phoenix that help to keep residents cool during the summer heat. In North Phoenix, visitors can find an amusement park called Castles N' Coasters.
Parks that focus on desert preservation can be found across Phoenix, with South Mountain Park the most notable as the world's largest municipal park. It clocks in with 16,500 acres, and is a popular spot for mountain biking, hiking, and horseback riding. In east Phoenix, Papago Park has a little something for everyone: a botanical garden, the Phoenix Zoo, golf courses, and the Hole-in-the-Rock geological formation.
Aside from parks, art plays a big role in Phoenix. Phoenix Art Museum hosts a prolific year-round program of independent art films, educational programs, festivals, and live performances in its museum, which houses everything from Asian to Latin American modern and contemporary art. (Even fashion design is included in its collection.)
Heard Museum, near downtown Phoenix, displays a full Navajo home (known as Hogan), as well as an exhibit featuring more than 250 pieces of jewelry and more than 400 Hopi dolls. Other museums include: Musical Instrument Museum, with the biggest musical instrument collection in the entire world; Arizona Science Center; Hall of Flame Firefighting Museum; and the Children's Museum of Phoenix.
Additional Resources: Find information about what to do in Phoenix or read reviews from people who have been there.
Transportation
Most streets in Phoenix are laid out in a traditional grid system, running either north to south or east to west. Many of the city's freeways have been added since 1985 to help alleviate traffic. Before then, most traffic was filtered through two interstates only, 10 and 17. Most in Phoenix travel by car, with only 3.38% of commuters in the city traveling via public transit. Still, Valley Metro offers transportation through the metro area with buses, ride-shares, and trains. The city has several airports, though, among which are Phoenix Sky Harbor International Airport, the 10th busiest airport in the U.S.
Additional Resources: For most travel needs, check out Valley Metro. Flying in? Try Phoenix Sky Harbor International Airport.