Los Angeles Guide
Quick Facts
| | |
| --- | --- |
| Located in: | California |
| Population: | 3,792,621 |
| Nicknames: | City of Angels, L.A. |
| Resources: | Official Website |
About
The grandness of Los Angeles can hardly be overstated. The city encompasses Hollywood, making it the leader in television, video games, and music productions. With such a large population, Los Angeles is divided into more than 80 districts and neighborhoods, similar to the boroughs in New York. Because one in every six Los Angeles resident works in the creative industry, the city is often billed as the "Creative Capitol of the World."
Theater
Downtown Los Angeles is home to the Broadway Theatre District, which is the largest historic theater district listed — even bigger than NYC. It was also the first theater district in the U.S. Today, only 12 theaters remain along a six block stretch, many of which are either used as movie theaters or for other purposes. According to a study done by the University of Southern California, more than 1,100 theater productions open each year, with 21 openings each week.
Currently, Los Angeles Theatre is where Disney is showing Disney's Aladdin: A Musical Spectacular, which will move to Broadway in New York City sometime in 2014.
Hollywood has played a huge role in the development of the arts and culture environment in Los Angeles. A district in L.A., Hollywood launched careers of some of the biggest film and theater stars.
The Hollywood Walk of Fame, created in 1958, pays tribute to artists, actors, actresses, singers, TV stars, theater performers, and celebrities within the entertainment industry.
Venues include: Orpheum Theatre; Million Dollar Theater; Los Angeles Theatre
Concerts
Considered one of the most important sites in recorded music history, Los Angeles is home to Capitol Records building. Its façade resembles a stack of albums.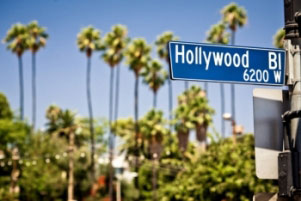 Hollywood Boulevard
In the mid-1900s, L.A. fostered a vibrant African-American music scene, and in the 1960s, bands like The Doors and The Byrds emerged out of this area. The Beach Boys and Randy Newman launched their careers around this time, and in this area.
"Hair bands," such as Guns N' Roses, metal bands, like Metallica, and '90s rock bands, such as Korn, were all bred in L.A. The city's musical rap sheet is a mile long, and includes the likes of Dr. Dre, 2Pac, Snoop Dogg, and The Black Eyed Peas. Maroon 5, Miley Cyrus, Rage Against the Machine, 30 Seconds to Mars, and No Doubt are also from LA.
The Music Center of Los Angeles, which consists of several musical venues, can be found in downtown L.A. More than 1.3 million visitors stop by this area annually. The Los Angeles Philharmonic Orchestra can be found in this city as well.
Venues include: Walt Disney Concert Hall; Dorothy Chandler Pavilion; Ahmanson Theatre; Mark Taper Forum
Sports
Although Los Angeles was previously home to two NFL teams, the Rams and the Raiders, it is currently home to zero. Several NFL teams have attempted to make the move to L.A., including the Seattle Seahawks, but none have succeeded thus far.
Despite that, L.A. is home to plenty of other sports teams, like MLB team Los Angeles Dodgers and NBA teams Los Angeles Clippers and Los Angeles Lakers, both of which share the Staples Center. The city of L.A. hosted the 1932 and 1984 Summer Olympics, and the city is slated to host the Special Olympics World Summer Games in 2015. Super Bowls I and VII were in L.A., as well as several FIFA World Cup games in 1994.
Teams include: Los Angeles Clippers; Los Angeles Lakers; Los Angeles Dodgers; Los Angeles Amazons; Los Angeles Galaxy; Los Angeles Kings; Los Angeles Sparks; and college teams, like UCLA and USC.
Dining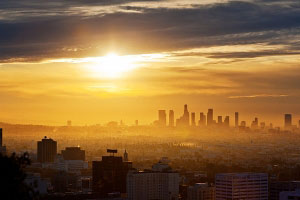 Los Angeles skyline
Several staples in American cuisine have been established in Los Angeles, like the cobb salad (invented in Hollywood's Brown Derby restaurant), the blended iced coffee drink (Coffee Been & Tea Leaf and Original Tommy's Hamburger), and the French-Dip sandwich (who created it is a toss-up between Cole's Pacific Electric Buffet or Phillippe's).
Many of the restaurants created decades ago still stand today. L.A. cuisine is also quite dynamic, offering Mexican, Japanese, Chinese, and Thai food, as well as soul food and Mediterranean cooking. A robust vegan and vegetarian scene has emerged more recently as well, offering alternatives to meat and dairy.
Food trucks are immensely popular in L.A., selling everything from burgers to sweets to tacos. FindLaFoodTrucks.com provides a minute-to-minute update of where residents and tourists can find the best food trucks around the city. Some restaurants even offer a view of the magnificent Los Angeles skyline.
Additional Resources: Eat at Zagat-rated L.A. Restaurants or opt instead for a comprehensive guide to all of the city's places to eat.
Other Attractions
With more museums per capita than any other city in the world, there are plenty of things to do and places to visit in Los Angeles, including the Getty Center, the Museum of Contemporary Art, and the Los Angeles County Museum of Art. A monthly Downtown Art Walk garners tens of thousands to Gallery Row, where many of the museums can be found.
Several top educational institutions can be found in L.A., including public colleges like University of California, Los Angeles, and numerous private colleges, like the University of Southern California (USC). L.A. also boasts a diverse economy, and six Fortune 500 companies call it home, as well as various other companies including California Pizza Kitchen, Guess?, Fox Entertainment Group, and The Jim Henson Company.
L.A. has no shortage of historical monuments, either. In downtown Los Angeles alone, there are more than 120 registered Historic-Cultural Monuments, which include Little Tokyo, the Fashion District, and Chinatown.
Additional Resources: Find a free list of L.A. attractions, more information about the LA Art Walk, or check out reviews on L.A. landmarks at TripAdvisor from tourists who have been there.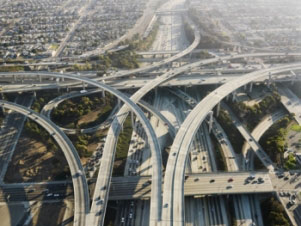 An overhead view of L.A.'s freeways
Transportation
An extensive network of highways is a strong indicator that you're in Los Angeles. The city is among the most congested in the U.S., with the average traveler in L.A. experiencing 72 hours of traffic delay each year, according to a report published by the Texas Transportation Institute. Interstate 5 connects L.A. with everywhere from nearby San Diego to Tijuana, Mexico.
For those who would prefer to avoid driving, L.A. has a robust public transit system, including buses and subways. The Port of Los Angeles, located in San Pedro Bay, makes it possible to see L.A. by boat. And to get here, most fly in by way of Los Angeles International Airport, also known as LAX. It's the third busiest airport in the U.S.
Additional Resources: The L.A. World Airport website has everything from traveling tips to real-time flight status updates. To find a list of fares, times, and general information about traveling in L.A. via public transit, check out LA Metro, or, if you'd prefer to develop your sea legs, head to Port of Los Angeles.