California Guide
Quick Facts
| | |
| --- | --- |
| Capital: | Sacramento |
| Population: | 38,041,430 |
| Nicknames: | The Golden State |
| Resources: | Official Website |
About
The state of California sprawls across most of the U.S. West Coast. It's bordered by Oregon, Nevada, Arizona, and a portion of Mexico, and happens to be home to eight of the most populated cities in the U.S. The California Gold Rush in 1848 is what drove many to the state, causing an influx of immigration and altering the state's economy. Now, the state is mostly made of California-born residents, although the immigration population is still going strong. Many head to California to chase their dreams of becoming a star, while others bask in the state's warm, but mild, weather year-round. If California were a country, it would have the 9th largest economy in the world and be the 34th most populous nation.
Sports
Both the Summer and Winter Olympics have previously been hosted in California. The state has also hosted various games during the 1994 FIfA World Cup, the Rose Bowl, and the Super Bowl (which has taken place in California 11 times at four different stadiums). California's sports history is prolific, especially because it has 19 major professional sports league franchises, which is far more than any other state in the U.S. Motorsports and auto racing has also gained popularity in California, with events like the IndyCar Series and the NASCAR Spring Cup Series being held in the state.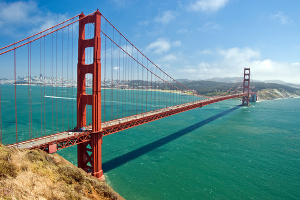 Golden Gate Bridge
Teams include: Oakland Raiders; San Diego Chargers; San Francisco 49ers; Sacramento Mountain Lions; Los Angeles Dodgers; Los Angeles Angels of Anaheim; Oakland Athletics; San Diego Padres; San Francisco Giants; Golden State Warriors; Los Angeles Clippers; Los Angeles Lakers; Sacramento Kings; Los Angeles Sparks; Anaheim Ducks; Los Angeles Galaxy.
Concerts
Most popular performers stop in Cali, often for several dates and visiting several cities, any time they have a U.S. tour. Hardcore punk, hip hop, country and heavy metal music scenes have all emerged from California. Newer genres, like surf rock and third wave ska, began there. Native American Music, as well as Spanish and Mexican sounds (including folk), also have strong scenes.
The genre of music used varies by decade as well. In the 1970s and 1980s, for example, glam metal, alternative rock, and thrash metal were incredibly popular. Hardcore and pop punk even varied depending on where in California the bands were located. In L.A., cult bands like The Screamers emerged, while in Orange County, there were bands like Social Distortion. Later, in the 1990s and 2000s, desert rock, hip hop, indie rock, and alternative metal gained traction.
Venues include: House Of Blues (various locations); Hollywood Bowl; Oracle Arena; Pacific Amphitheatre; Davies Symphony Hall; Shoreline Amphitheatre.
Theater
Traveling Broadway shows consistently stop in California. Broadway Sacramento has hosted such greats as Wicked, Sister Act, and Blue Man Group. Other theaters pockmark California, including The Paramount Theatre in downtown Oakland, California, which is home to the Oakland East Bay Symphony and Oakland Ballet; California Shakespeare Theater, in the San Francisco Bay Area; and an area in L.A. known as Theatre Row Hollywood, which has approximately 15 theaters. Various local theater companies perform across the state as well.
Venues include: The Mondavi Center; The Los Angeles Music Center; The Napa Valley Opera House; The Lincoln Theatre; The Orange County Performing Arts Center; La Paloma Theater; The Cantor Arts Center at Stanford University; Teatro Campesino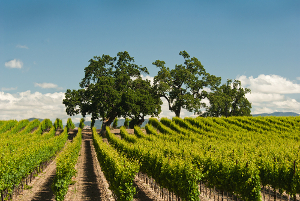 Vineyard in Sonoma County
Dining
California cuisine is marked by various "micro-climates" that bring out eclectic cuisines. There is hardly a palette that can't be satisfied in California, what with their wide range of ethnic, health, and organic foods. SoCal's "car culture" has made it so that burgers and sandwiches are huge, including popular fast food chains like Jack in the Box and In-N-Out Burger. Latin influences make for delectable Mexican and Spanish dishes, while the state's proximity to the ocean creates endless seafood options.
Additional Resources: For a list of restaurants, try Trip Advisor. For more on California dining, read up on their cuisine.
Other Attractions
Among some of the most popular attractions in California are Redwood National Park, SeaWorld, Death Valley, Disneyland, and Yosemite National Park. Adults may enjoy tours at any of the state's wineries, while kids will love any of the adventure parks across the state. Tourists can enjoy scenic drives, lush beaches, historical monuments, a taste of fame, iconic sights, or art.
Additional Resources: Find information about year-round events in California or check out the sites and places to visit.
Transportation
An extensive series of freeways, highways, and expressways connect the multitude of cities throughout California. As such, cars are the most prominent mode of transportation in the state, which is often known for its "car culture." In fact, one of the most re landmarks in San Francisco is the Golden Gate Bridge, While this does tend to contributor to traffic congestion, there are other ways of getting around. The California High-Speed Rail and Amtrak California are among them. California is also home to LAX (Los Angeles International Airport), the 6th busiest airport in the world.
Additional Resources: For travel information, the state's official website should be your first stop.