Denver Guide
Quick Facts
| | |
| --- | --- |
| Located in: | Colorado |
| Population: | 634,265 |
| Nicknames: | The Mile-High City; Queen City of the West; Wall Street of the West |
| Resources: | Official Website |
About
Denver is the largest city within 500 miles. As such, it's become a reliable location for storage and distribution of goods in the Mountain, Southwest, and western states in the U.S. There are 80 official neighborhoods within Denver. Each neighborhood harbors its own characteristics, everything from modern, suburban areas to neighborhoods that include large skyscrapers. Some well-known neighborhoods include LoDo (AKA "Lower Downtown"); Park Hill; and Cherry Creek. Arts also play a big role here, with a 1 cent sales tax that contributes to the maintenance of cultural and science facilities in the area.
Theater
Shortly after Denver was founded in 1859, Apollo Hall opened and immediately began staging plays. Following that success, Denver's first opera house went up in the 1880s, solidifying Denver's roots in the performing arts scene.
In 1924, Lamont School of Music began a crucial cultural fixture in the city, especially through the 1920s and 1930s. Its immense success led to a merge in the 1940s with the University of Denver, which it is still part of today. The school has been recognized by the city of Denver for its excellence in education and today, the school (now known as Lamont School of Music at Newman Center for the Performing Arts) continues to produce opera.
Other local organizations contribute to Denver's wealthy arts scene, including: the first dedicated improve comedy theater in the Denver area, Bovine Metropolis Theater; Denver's Dangerous Theatre; Ballet Nouveau Colorado; Orental Theatre; Crossroads Theatre at Five Points; Denver Center Theatre Company; and Mizel Arts and Culture Center. Many big-name comedians tend to stop in Denver, like Kathy Griffin, Chris Hardwick, and Mike Birbiglia, as well as Broadway shows on tour, such as Mary Poppins, and other popular theater shows, including Blue Man Group.
Venues include: Lamont School of Music; SIE FilmCenter; Buell Theatre; Comedy Works Downtown; Bovine Metropolis Theater; Oriental Theater; Denver's Dangerous Theatre; Crossroads Theater; Space Theatre; Elaine Wolf Theater; Performing Arts Complex at PCS
Concerts
Denver boasts such an incredibly active jazz, pop, folk, jam, and classical music scene that it's gone on to help launch careers for several artists — regional, national, or otherwise.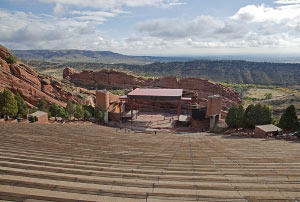 Red Rocks Amphitheatre
Current Denver artists include The Lumineers, The Fray, and Flobots. But perhaps most notable are Bob Dylan, Judy Collins, and John Denver, who all lived in Denver during the boom of the Denver folk scene in the 1960s and 1970s.
Although opera shows are part of Lamont School of Music at Newman Center for the Performing Arts production schedule, the school is well-known for performing concerts above all else. In fact, the school presents almost 300 concerts annually, 250 of which are completely free for residents. Meanwhile, famed acts like Bon Jovi, Gaslight Anthem, Morrissey, and Paramore have previously stopped in Denver on their nationwide tours.
Red Rocks Amphitheatre, which is technically located in Morrison, but is owned and operated by Denver, is a rock structure-turned-open-air amphitheatre. A large, disc-shaped rock is behind the stage, while several rocks are angled around, allowing nearly 10,000 people to pack inside for a show. The venue started its musical history back in the early 1900s, and each concert season kicks off with a performance is the Easter Sunrise Service.
The Beatles performed at Rock Rocks in 1964, undoubtedly among the venues most notable shows. When British rock 'n' roll group Jethro Tull performed at Red Rocks less than 10 years later, it led to a riot that caused the Denver mayor to ban rock concerts from the venue all together. Acts like Sonny & Cher, The Carpenters, and Carole King filled the roster instead. In the summer of 1976, the ban was lifted. Popular acts that have performed there include U2, The Grateful Dead, Jimi Hendrix, Kenny Chesney, Coldplay, Phish, and Dave Matthews Band.
Venues include: Pepsi Center; Boettcher Concert Hall; Lamont School of Music; Bluebird Theater
Sports
Denver is among the few cities in the U.S. with teams from four major sports. The city has sports teams across a variety of sports, including lacrosse. Colorado Mammoth is part of the National Lacrosse League and shares its home with two other Denver teams: Colorado Avalanche (NHL) and Denver Nuggets (NBA). In 2006, the city formed the Denver Outlaws, part of Major League Lacrosse; the team currently plays in the Sports Authority Field at Mile High, and even won the Western Conference Championship the first year they were established..
The team that is undoubtedly synonymous with the city, however, is the NFL team Denver Broncos. The Broncos have been able to draw crowds in the tens of thousands since their early origins back in the 1960s, when they were just part of the American Football League. Now, the Broncos play at Sports Authority Field at Mile High, following six advancements into the Super Bowl. The team won consecutive titles in 1998 and 1999.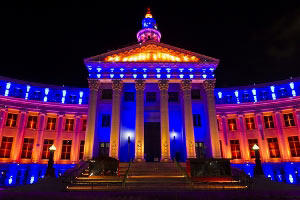 Denver's City and County building decorated for a Denver Broncos game
Colorado Rockies, an MLB team, are also quite popular not only in Denver but across the U.S. The team was created as an expansion franchise in 1993; in 1995, the Rockies made it into the playoffs but were eliminated round one. However, more than 10 years later, they advanced to the playoffs as a wild-card team, and won the NL Championship Series. It was 2007 when the team played in the World Series for the first time; the game was held in Denver.
Teams include: Denver Broncos; Denver Nuggets; Colorado Rockies ; Colorado Avalanche; Denver Outlaws
Dining
Chipotle Mexican Grill, as well as Quizno's and Smashburger, were actually founded and based in Denver, giving the city a reputation as a pioneer in the fast casual restaurant business. Noodles & Company, Good Times Burgers & Frozen Custard, and Qdoba Mexican Grill all began in Denver, but have since relocated.
The city has a few eclectic cuisine specialties, but it's Rocky Mountain oysters that are perhaps most unique. The "oysters" are not oysters at all, but bull calf testicles. (Sometimes pig or sheep may be used instead.) They are usually deep-fried and served with some type of dipping sauce. Rocky Mountain oysters can be purchased at Coors Field during Colorado Rockies baseball games. Green chiles tend to be credited to Denver, too, although the original chile verde likely originated elsewhere. Still, the ingredient is used to make various chile-inspired dishes, including a chili that's thinner than traditional chili.
But the city also has a lush variety of beers available. The Denver Beer Fest, held annually each October, is a huge draw for the city and unites beer lovers from all over the U.S. Many restaurants have on-site breweries, while companies like Coors and New Belgium Brewing Company offer tours. The city ranks number one in terms of beer production per capita
Additional Resources: Find Denver Beer Fest info or find a list of places to eat.
Other Attractions
Due to its proximity to mountains, as well as its typically sunny weather, Denver is known as an outdoor-oriented city. The city offers a little something for everyone, whether that's skiing, hiking, climbing, camping, or kayaking.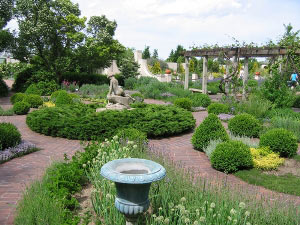 Denver Botanical Garden
There are more than 200 parks all over the city to choose from, some of which are mini-parks, while others span hundreds of acres (like the 314-acre City Park). While some focus on nature, like Denver Botanical Gardens, others are places of recreation.
Mountain parks make up more than 14,000 acres in the city. Red Rocks Park is known for its scenery (and musical history), while Winter Park Resort is a ski area operated near Denver. Community gardens, open to the public, are also big in Denver. Its prolific park system helps to make the city a lush, active area, rather than merely a dry plain. Several nationally recognized museums can be found in Denver as well. Denver Art Museum and Denver Museum of Nature and Science are among them.
Additional Resources: Find information about what to do in Denver or read reviews from people who have been there.
Transportation
Voted the 16th most walkable city in the U.S. (out of 50 of the biggest cities in the nation), Denver has a great place to get around, whether by foot or bicycle. More than 850 miles make up bike paths around the city, some of which snake around scenic areas like Cherry Creek. Denver is considered a bicycle-friendly city, especially due to its program, B-Cycle, which is a city-wide bike-sharing program, launched in 2010.
Public transportation in the city is managed by the Regional Transportration District, or RTD, which operates more than 1,000 buses and five light rail lines. The city used to be a major train hub, although today it is less so. Still, Union Station, which was once bustling, is now considered historic. As such, travelers who visit the area can experience Railroading in the Rockies via a model railroad, maintained by The Denver Society of Model Railroaders.
Additional Resources: For most travel needs, check out Regional Transportation District. Flying in? Try Fly Denver.