Colorado Guide
Quick Facts
| | |
| --- | --- |
| Capital: | Denver |
| Population: | 5,187,582 |
| Nicknames: | The Centennial State |
| Resources: | Official Website |
About
Residents of the state are known as "Coloradans" (and sometimes, "Coloradoans"). The state is known for its extreme weather shifts, fluctuating between thunderstorms, hail, and tornadoes to air so dry it causes a drought. The state's diverse landscape and climate, however, make it a prime area for outdoor activities, including riding rapids, hiking, mountain climbing, camping, and biking. Colorado has the highest average elevation of any state, including more than 1,000 Rocky Mountain peaks, reaching 10,000 feet high.
Sports
Colorado is the least populous state with a franchise in each of the major professional sports leagues. But its large metropolitan area makes up for the scarcity of the rest of the state — it's the most populated area for 550 miles. Coloradans can support the Denver Broncos for NFL; the Denver Nuggets for the NBA; the Colorado Rockies for the MLB; and the Colorado Avalanche for the NHL. Several collegiate sports in Colorado are part of the NCAA Division 1 programs as well.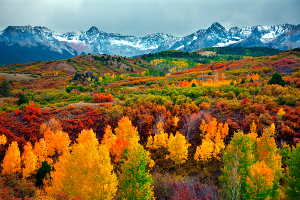 Stunning Colorado mountains
Teams include: Denver Broncos; Denver Barbarians; Denver Nuggets; Colorado Ice; Colorado Springs Sky Sox; Colorado Rockies; Grand Junction Rockies; Colorado Avalanche; Colorado Mammoth; Colorado Eagles; Denver Cutthroats; Denver Outlaws.
Concerts
Several music scenes and venues exist in Colorado, especially in the state capital, Denver, and Colorado Springs. Folk and traditional music, for example, has its own scene in the state and it has become a large part of pop culure as a result. The Colorado Bluegrass Music Society exists to promote Coloradan bluegrass music; the state also has two major orchestras, Boulder Philharmonic Orchestra and the Colorado Symphony Orchestra.
A plethora of bands and musicians have hailed from Colorado as well, including 3OH!3, India.Arie, The Lumineers, and OneRepublic. The famous Red Rocks Amphitheatre, a rock structure-turned-open-air amphitheatre, can be found in Colorado. The venue started its musical history back in the early 1900s, with The Beatles performing at Rock Rocks in 1964, undoubtedly among the venues most notable shows.
Venues include: Fillmore Auditorium; Magness Arena; Ogden Theatre; Pepsi Center; Bluebird Theater; Paramount Theater; Fox Theatre; Macky Auditorium; 1STBANK Center; Red Rocks Amphitheatre.
Theater
Denver has a strong theatrical scene, with the first dedicated improve comedy theater in the Denver area, Bovine Metropolis Theater; Denver's Dangerous Theatre; Ballet Nouveau Colorado; Orental Theatre; Crossroads Theatre at Five Points; Denver Center Theatre Company; and Mizel Arts and Culture Center. Denver Center for the Performing Arts is the second largest performing arts center in the U.S. The University of Colorado at Boulder runs several theaters; it also hosts the annual Colorado Shakespeare Festival.
Venues include: Denver Center for the Performing Arts; Avenue Theater; Next Stage; Chautauqua Auditorium; Bas Bleu Theatre Company; Town Hall Arts Center.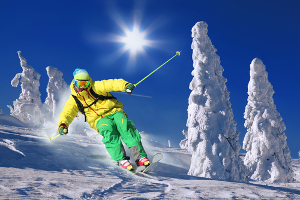 Skiing in Colorado's High Mountains
Dining
Southwestern and Rocky Mountain cuisine dominate Colorado. Southwestern cuisine is marked by foods typically eaten by Spanish colonial settlers, Native Americans, and Mexicans through the post-Columbian era. It's similar to Mexican cuisine, except that this type of food uses larger cuts of meet. Southwestern food is often spicy and includes beans.
Rocky Mountain foods — popular in Colorado, Wyoming, Ytah, and Montana — include meats, often smoked. Two distinguished dishes associated with Colorado include bison meat and Rocky Mountain oysters. Boulder, Colorado, has an excellent food scene; in 2010, it was named America's Foodiest Town by Bon Appetit magazine. The Food & Wine Classic is held each year in Aspen, Colorado, and the state is home to many wineries and microbreweries.
Additional Resources: For a list of restaurants, try Restauranteur.com. For more on Colorado dining, read up on their cuisine.
Other Attractions
Nature lovers are sure to find plenty to enjoy in Colorado. The state has stunning hot springs, lakeside lodging, farm stays, waterfalls, and hunting opportunities. Tasting tours — whether wineries or candy shoppes — are popular with tourists and locals alike. But Colorado skiing is undoubtedly one of the state's biggest draws. Colorado winter vacations are unbeatable, with the state housing some of the best ski resorts in the country. Snowmass, Buttermilk, Aspen Highlands, Copper Mountain Resort... there are endless resorts and lodges to choose from.
Additional Resources: Find information about Colorado destinations or check out upcoming events in the state.
Transportation
An extensive transportation system exists in Colorado highways, railways, and airport design. While most travel via highway (specifically, Interstate 25 and Interstate 70), public bus services are offered for both both intra-city and inter-city travel. AMTRAK offers two passenger trains through the state, but Colorado has a rich history involved in railroad design. Its freight railroad network is 2,688 miles of Class I trackage and is a crucial part of the U.S. economy due to the volume of goods it delivers. Denver International Airport, located in Colorado's capital city, is the fourth busiest airport in the U.S.
Additional Resources: For travel information, Regional Transportation District should be your first stop.