Connecticut Guide
Quick Facts
| | |
| --- | --- |
| Capital: | Hartford |
| Population: | 3,590,347 |
| Nicknames: | The Constitution State; The Nutmeg State; The Provisions State; The Land of Steady Habits |
| Resources: | Official Website |
About
Although Connecticut is the third smallest state in the U.S., its population density is 4th in the entire nation. With towns like bustling Hartford, Bridgeport, and New Haven, Connecticut is no stranger to a large population. Known as being a "wealthy" state, Connecticut does have several towns that are, indeed, affluent, including Greenwich, Fairfield, and Westport. The state is home to various attractings, including the Beardsley Zoo, Mystic Aquarium, Dinosaur State Park, and Gillette Castle.
Sports
Currently, Connecticut does not host any professional sports teams, though most residents get their fix by rooting for nearby teams like the Boston Red Sox, New York Yankees, or New England Patriots. However, Connecticut hosts an annual PGA Tour golf tournament called teh Travelers Championship and has its own WNBA team, Connecticut Sun. But collegiate sports are undoubtedly the most popular. Connecticut is home to the UConn Huskies men's and women's basketball teams, both of which have won multiple national championships. Its football team has played in the Football Bowl Subdivision since 2002; other Division I sports teams can be found at Yale, Quinnipiac, Fairfield, Central, and Sacred Heart Universities. New Haven hosts "The Game" biennually between Yale and Hartford.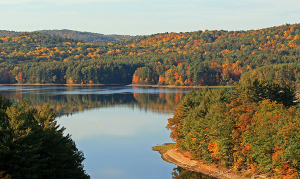 Autumn in Connecticut
Teams include: Connecticut Sun; Bridgeport Bluefish; Bridgeport Sound Tigers; Connecticut Whale; New Britain Rock Cats; UConn Huskies.
Concerts
Connecticut's New Haven Symphony is the fourth oldest orchestra in the U.S., following Chicago, Boston, and New York Philharmonic symphonies. The group first performed back in 1895. Several other musical organizations exist in Connecticut as well, including Connecticut Opera; Norwalk Youth Symphony; Hartford Chorale; and Hartford Symphony Orchestra. The state's universities often host many classical music shows. Most big-name acts, however, stop by the XL Center or Comcast Theatre in Hartford or the Chevrolet Theatre in Wallingford. John Mayer, Liz Phair, Cassie, and MGMT all have roots in Connecticut.
Venues include: XL Center; Chevrolet Theatre; Comcast Theatre; Webster Theatre; Toad's Place; Palace Theater; Mohegan Sun; Foxwoods.
Theater
Local theater has a strong presence in Connecticut, with troops across the state performing musicals, plays, and opera shows. The Bushnell Center for the Performing Arts dubs itself "Connecticut's premier performing arts center" — and, indeed, the Bushnell hosts its own annual Broadway season. Shows like Wicked, The Book of Mormon and The Lion King. A few towns away, Palace Theater, located in Waterbury, hosts a Broadway series as well, boasting such productions as Rock of Ages, Elf, and Beauty and the Beast.
Venues include: Bushnell Center for the Performing Arts; Palace Theatre; Goodspeed Opera House; Jorgensen Center at the University of Connecticut in Storrs; Regina A. Quick Center for the Arts at Fairfield University; Long Wharf Theatre; Shubert Theatre.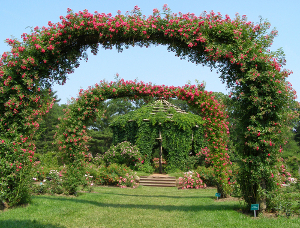 Rose Garden in Hartford
Dining
Because its nestled in New England, it's no surprise that seafood is a prominent food of choice in Connecticut, especially by the shore in the Mystic area. The state is known for a few specific dishes, including: shad and shadbakes; grinders (Subway began in the state); and apizza, a style of Neapolitan pizza common in the New Haven area. Two famously competitive pizza places exist in New Haven: Frank Pepe Pizzeria Napoletana and Sally's Apizza. The feuding restaurants are located on the same street.
Additional Resources: For a list of restaurants, try Connecticut Magazine. For more on Connecticut dining, read up on their cuisine.
Other Attractions
Connecticut has an eclectic mix of things to do and see, including everything from a rose garden in the state's capital to a museum with the full skeleton of a T-Rex in ne Haven. Mohegan and Foxwoods casinos are a huge draw for everything from great food to gambling to overnight stays. The state has art, wine, and food trails. The Maritine Aquarium, Mystic Seaport, Essex Steam Train, and Beardsley Zoo are all popular destinations, especially for families. For something more historical, head to Hartford or New Haven, where you can see everything from Harriet Beecher Stowe's home to Yale University.
Additional Resources: Find information about CT getaways or check out the sites and places to visit.
Transportation
Most in Connecticut travel from place to place via car. CTRides is one organization that offers free community services via Connecticut's Department of Transportation (also known as CT DOT). In larger cities, it's easy to get around using public transit, particularly busses. Currently, a $537 million project is underway to improve highways and public transportation across the state.
Additional Resources: For travel information, the state's official website should be your first stop. For everything else, try CT's DOT.