Washington, D.C. Guide
Quick Facts
| | |
| --- | --- |
| Located in: | Between Maryland and Virginia |
| Population: | 632,323 |
| Nicknames: | D.C.; The District; Washington |
| Resources: | Official Website |
About
With a low and sprawling skyline (as per building height restrictions), Washington, D.C. is a picturesque area of the U.S., boasting lush greens and an annual Cherry Blossom Festival. Formally referred to as the District of Columbia, Washington D.C. would rank 49th in population if it were a state — ahead of Vermont and Wyoming. It's home to numerous monuments and museums, most of which can be found near the National Mall. Additionally, 176 foreign embassies can be found here, as well as the headquarters of various nonprofit organizations, trade unions, and lobbying groups.
Theater
Washington, D.C. has a very strong local theater tradition, including its own version of Broadway found at the U Street Corridor in Northwest D.C. Although there are shops, restaurants, night clubs, art galleries, and music venues nearby, U Street Corridor is also home to Howard Theatre, Bohemian Caverns, and Lincoln Theatre.
D.C.'s involvement in local theater started with the work of the non-profit group Arena Stage in 1950. Arena Stage was a pioneer in the Regional Theater Movement and, as it gained national attention, it encouraged growth around the city of independent theater troupes. Its organizations now include Woolly Mammoth Theatre Company, Studio Theatre, and Shakespeare Theatre Company. The GALA Hispanic Theatre, located in Columbia Heights, emerged in 1976 and has gone on to be named a National Center for the Latino Performing Arts.
Although D.C.'s strength lies in regional shows, many touring Broadway productions do stop in D.C. along the way. Similarly, the Washington National Opera and the Washington Ballet are revered for their work performed at the John F. Kennedy Center for the Performing Arts. Ford's Theatre, the infamous location of President Abraham Lincoln's assassination, continues to operate as a performance venue to this day.
Venues include: John F. Kennedy Center for the Performing Arts; Tivoli Theatre; Ford's Theatre; Howard Theatre; Lincoln Theatre
Concerts
In addition to being used for theatrical purposes, many of the venues on the U Street Corridor have housed musical acts. Duke Ellington, John Coltrain, and Miles Davis have all performed in some of the venues there.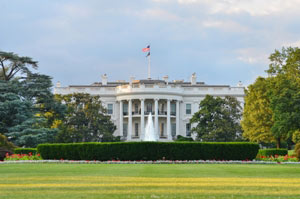 The U.S. Marine Band performs every four years at the presidential inauguration. Above, a shot of the White House.
D.C. has also fostered an eclectic indie culture and music scene, starting with Dischord Records, an independent label that helped launch 1980s punk and 1990s indie rock. Today, modern alternative and indie music venues continue to bring popular acts to D.C. The city is also home to a genre known as go-go, which gained popularity in the 1970s. The music is a mixture of post-funk and R&B.
Verizon Center, located on F Street in D.C., is a 20,000 seat arena that hosts 200 or so events every year, many of which are concerts. Performers like U2, Paul McCartney, Bon Jovi, Prince, Beyonce, Andrea Bocelli, and Rolling Stones have all held concerts there.
The nearby Kennedy Center is where most of its orchestral and theater performances take place, but jazz, pop, and folk music are often hosted here as well. On a much smaller scale, with just over 4,000 seats, Carter Barron Amphitheater is an outdoor concert venue, perfect for shows in the warmer weather.
Near Capitol Hill, the Marine Barracks is home to the U.S. Marine Band, which was founded in 1798. As the country's oldest professional music organization, the U.S. Marine Band performs at official events and public concerts in the district.
Venues include: John F. Kennedy Center for the Performing Arts; DAR Constitution Hall; Carter Barron Amphitheater; The Black Cat; 9:30 Club; Howard Theatre; Bohemian Caverns; Lincoln Theatre; Verizon Center
Sports
There are only 12 cities in the U.S. with teams in all four major men's professional sports leagues. Washington, D.C. is one of them. There's the Washington Wizards (NBA), the Washington Nationals (MLB), the Washington Capitals (NHL), and the Washington Redskins (NFL). Additionally, D.C. is home to the WNBA's Washington Mystics. The Mystics play at Verizon Center in Chinatown with the men's basketball teams, while the Redskins play in Maryland, and D.C. United, the soccer team, plays at RFK Stadium.
Across D.C.'s teams, the city has earned 10 professional league championships (the Redskins pulled in five of those wins, while D.C. united has won four, the most in Major League Soccer history, and the Washington Wizards earning one). There are plenty of other sports teams in D.C., too, like a World TeamTennis team, an American National Rugby League team, and an Independent Women's Football League.
Some college teams in Washington, D.C. even have a following — the district has four NCAA Division I teams. Georgetown Hoya's men's basketball team is well-known and plays at the Verizon Center.
Teams include: Washington Wizards; Washington Nationals; Washington Capitals; Washington Redskins; D.C. United; Washington Kastles; Washington D.C. Slayers; Baltimore Washington Eagles; D.C. Divas
Dining
With a huge food truck scene, Washington, D.C. has a wide variety of dining choices to select from. The best breakdown of food easily comes from the Washington Post, which lets visitors search by price, location, cuisine, meal type, and editorial review. Well over 2,000 restaurants are included in its list, and there's even an app to help D.C. visitors decide where to dine.
Food touralso have a huge presence in the city. Each food tour highlights cuisine from locally-owned and operated establishments in the D.C. area, allowing visitors to avoid chain restaurants if desired. Pub crawls, bar crawls, wine tours, and tours based on location, D.C.'s food tours are perfect for those who want to see — and taste! — a little of everything.
Additional Resources: Find DC Food Trucks, dine at a nearby restaurant or check out a food tour.
Other Attractions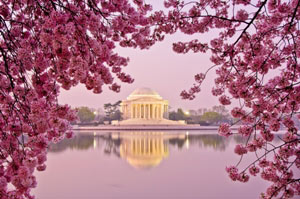 DC's annual Cherry Blossom Festival
The list of things to do in Washington, D.C. is almost never-ending. The National Mall — a huge, open park in downtown D.C. — is nestled between the Lincoln Memorial and the U.S. Capitol. Located within the strip is the Washington Monument, the Washington Pier, the White House, the National World War II Memorial, the Korean War Veterans Memorial, and the Lincoln Reflecting Pool.
D.C.'s annual Cherry Blossom Festival is a huge attraction for the district, drawing visitors to Tidal Basic, where rows upon rows of Japanese cherry bloom trees can be found. The trees, a gift from Japan, bloom stunning pink and white flowers each spring.
Around the Tidal Basin are the Franklin Delano Roosevelt Memorial, George Mason Memorial, Jefferson Memorial, Martin Luther King, Jr. Memorial, and the District of Columbia War Memorial.
Many flock to the Smithsonian museums, maintained by the Smithsonian Institution and partially funded by the government. Entry into each museum is absolutely free and there are several museums and galleries that are part of the area, including The National Museum of Natural History and The National Museum of American History.
Additional Resources: Find 100 free (or almost free) attractions in D.C. or focus just on the top 10 picks from U.S. News.
Transportation
D.C.-area commuters have some of the worst traffic delays, even though 37 percent of Washington-area commuters take public transportation to work — the second highest rate in the entire U.S. Commuting in and around D.C. is so prevalent that on any given workday, those coming in to D.C. to work raise the city's population from just over 600,000 to more than one million.
There isn't much in terms of interstate roads in D.C. and, in fact, Interstate 95 (the nation's biggest east coast highway) snakes around the city rather than going right through it. Therefore, public transportation in D.C. plays a big role. The Washington Metropolitan Area Transit Authority operates Washington Metro and Metrobus, which both serve D.C. and the suburbs. There's also Union Station, and three major airports that serve the district. A new DC Streetcar system to interconnect the city's neighborhoods is in the works.
Additional Resources: Check out WMATA or Union Station for all things transportation in D.C.