Delaware Guide
Quick Facts
| | |
| --- | --- |
| Capital: | Denver |
| Population: | 5,187,582 |
| Nicknames: | The Centennial State |
| Resources: | Official Website |
About
Residents of the state are known as "Coloradans" (and sometimes, "Delawareans"). The state is known for its extreme weather shifts, fluctuating between thunderstorms, hail, and tornadoes to air so dry it causes a drought. The state's diverse landscape and climate, however, make it a prime area for outdoor activities, including riding rapids, hiking, mountain climbing, camping, and biking. Delaware has the highest average elevation of any state, including more than 1,000 Rocky Mountain peaks, reaching 10,000 feet high.
Sports
While Delaware has no franchise teams in any major American professional sports leagues, that doesn't mean residents don't love sports. Many cheer on nearby Philadelphia or Baltimore teams. Many are also fans of the University of Delaware, Delware State University, and Wesley College sports teams. Delaware hosts two NASCAR races each year, and is also home to the Diamond State Games, an amateur Olympic-style sports festival.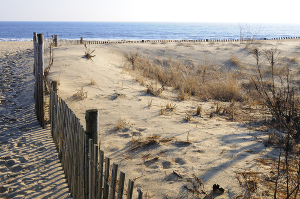 Delaware beaches, popular with tourists
Teams include: Wilmington Blue Rocks; Diamond State Roller Girls; Delaware 87ers.
Concerts
Delaware is home to the Firefly Music Festival, first held in July 2012. Each year, it's hosted at The Woodlands, Dover's 87 acre festival grounds. In 2012, the line-up included Jack White, The Killers, The Black Keys, Death Cab for Cutie, John Legend, Bassnectar, Modest Mouse, The Flaming Lips, Cake, and Lupe Fiasco. The 2013 line-up featured Red Hot Chili Peppers, Tom Petty and the Heartbreakers, and Foster the People, as well as Vampire Weekend, Yeah Yeah Yeahs, Kendrick Lamar, The Avett Brothers, Calvin Harris, Passion Pit, MGMT, and Ellie Goulding. Aside from the festival, the Delaware Symphony Orchestra, OperaDelaware, the Music School of Delaware and the School of Contemporary Music are all notable sources of local sounds.
Venues include: World Cafe Live at The Queen; University Of Delaware; The Freeman Stage At Bayside; Dupont Theatre; Grand Opera House.
Theater
The Delaware Theatre Company is one of the state's only professional theater companies. Now in its 35th season, Delaware Theatre recently revamped itself, boasting new shows, new seasons, and new things to enjoy. The company offers a Summer on Stage experience, which is a theatrical summer camp geared toward children ages 8-15. The Delaware Shakespeare Festival takes place each summer tin Wilmington, Delaware. It is to create professional theatre and educational programs to further the understanding and appreciation of Shakespeare's works for the residents and friends of the State of Delaware. Occasionally, touring Broadway shows will stop in Delaware at one of its local venues.
Venues include: Dupont Theatre; The Freeman Stage At Bayside; Grand Opera House.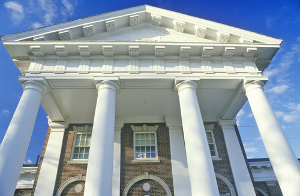 The Historic District in Delaware
Dining
Most of the dishes in Delaware are influenced by the state's early English heritage and its location on the Delmarva Peninsula. There's a hint of Southern influence in some of the food as well. Across Delaware, foodies might enjoy blue crab (the state's star dish), crab capes (served as appetizers, entrees, and even sandwiches), various types of seafood (claims, shrimp, scallops), and chicken. Delaware tends to offer fried chicken and chicken with dumplings as some of their "down-home" favorites.
Additional Resources: For a list of restaurants, try Urban Spoon. For more on Delaware dining, read up on their cuisine.
Other Attractions
Due to its significance in the early parts of U.S. history, Delaware is home to many historical monuments, museums, and sites. Tourist attractions tend to include First State National Monument, local wildlife refuges, the Delaware Memorial Bridge, and various beaches. The beach scene in Delaware is prolific. Rehobeth Beach has been called "The Nation's Summer Capital," since it's such a popular vacation spot, especially for Washington, D.C., Maryland, and Virginia residents. Additionally, Delaware has several festivals, fairs, and various events throughout the year, including Seaford, the Rehobeth Beach Chocolate Festival, and the Firefly Music Festival.
Additional Resources: Find information about Delaware destinations or check out attractions by city.
Transportation
Delaware Department of Transportation, also known as "DelDOT," is in charge of most Delaware transportation. Like many states in the U.S., Delaware is mostly traveled via car across highways. There are six highways that serve Delaware, as well as a bicycle route, known as Delaware Bicycle Route 1, various ferries, rails, and busses.
Additional Resources: For travel information, DelDOT should be your first stop.