Orlando Guide
Quick Facts
| | |
| --- | --- |
| Located in: | Florida |
| Population: | 238,300 |
| Nicknames: | O-Town; The City Beautiful |
| Resources: | Official Website |
About
Orlando, FL is sometimes called the "Theme Park Capital of the World" because it's home to Walk Disney World Resort, Universal Orlando Resort, SeaWorld, Gatorland, and Wet 'n' Wild Water Park. Its theme parks make Orlando a big tourist spot, especially for families. In 2009, it was the most visited city in the U.S. Orlando is mostly comprised of wetlands, meaning there are many swamps and lakes, with low, wet land. Although there are technically four seasons there, it could be argued that there are really only two major changes in weather. From May through late September, the city is hot and rainy, while October through April is typically dry and cool. In a 2009 study, Orlando ranked as the fourth most-desired place to live.
Theater
A substantial theater scene exists in the Orlando metropolitan area. Broadway tours regularly frequent the Bob Carr Performing Arts Centre. Previous Broadway shows that have visited the venue include Mamma Mia!, Evita, Jersey Boys, and The Book of Mormon. (Interestingly, a character in The Book of Mormon believes Orlando to be a sort of paradise.)
Aside from the Bob Carr Performing Arts Centre, many professional, semi-professional, and community theater groups and theaters can be found in Orlando. The Orlando Ballet, Orlando Repertory Theatre, and Orlando Shakespeare Theater are among them. Each spring, Orlando Shakespeare Theater hosts The Harriet Lake Festival of New Plays, which is just one theatrical festival among many, including The Orlando International Fringe Theater Festival and Orlando Cabaret Festival.
Venues include: Central Florida Ballet, Orlando Ballet, Orlando Shakespeare Theater, Orlando Repertory Theatre, Mad Cow Theatre, and IceHouse Theatre in Mount Dora
Concerts
In terms of music, Orlando has active hip hop, rock, reggae, Latin, and metal scenes. Big-name acts like Taylor Swift and Maroon 5 all make sure Orlando is on their list of stops as they tour the country. Hard Rock Café in Orlando is a huge draw for tourists and locals alike. It's nestled inside of Universal Studios Orlando in the CityWalk complex. There, you'll find not only a restaurant, but also a 3,000 person venue.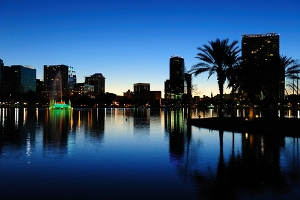 Orlando's skyline
Many of the boy bands popular in the 1990s and 2000s stemmed from Orlando. Backstreet Boys, NSYNC, O-Town, LFO, Take 5, and Aaron Carter all jump-started their careers in this city.
Venues include: Hard Rock Café; Bob Carr Performing Arts Centre; Amway Center; Citrus Bowl
Sports
Golf is one of Orlando's biggest sports. The city has numerous gold courses, including the Bay Hill Club and Lodge, where the Arnold Palmer Invitational is held. There are more than 100 gold courses in Orlando, with various golf resorts to choose from. Arnold Palmer, who is often considered one of the best golfers of all time, currently lives in Orlando.
The city has also played host to the NBA All-Star Game twice, once in 1992 and again in 2012. The Orlando Magic, an NBA team that had notable sports stars like Shaquille O'Neal, Penny Hardaway, and Dwight Howard, is likely the most popular team for the city. Their colors are black, blue, silver, and white, and the team plays at the Amway Arena (formally known as the Orlando Arena).
However, Orlando also has several other sports teams, like the Orlando City (soccer), the Orlando Solar Bears (hockey), and several minor league sports teams. Those teams went on to win several titles in ice hockey, soccer, arena football, and roller hockey. Similarly, many big-time athletes are from Orlando. The list includes: baseball players A.J. Pierzynski and Johnny Damon; football players Warren Sapp, Chris Johnson, Brandon Meriweather, Deacon Jones, Brandon Siler, Mike Sims-Walker, Brandon Marshall; basketball players Amar'e Stoudemire and Darius Washington; and soccer player Michelle Akers.
Teams include: Orlando Magic; Orlando City; Orlando Solar Bears
Dining
In terms of cuisine, Orlando's selections are massive, whether it's a popular chain, a Zagat-rated restaurant, or a small Mom and Pop diner. "Restaurant Row" is a stretch of Sand Lake Road that has several types of restaurants, including casual and upscale places to dine.
Global and regional flavors can be found at places in downtown Orlando, while those who prefer to dine with Mickey and Minnie Mouse by their side can do that, too. Walt Disney World in Orlando offers plenty of opportunities for families to dine with their favorite Disney characters. Choices include: Chef Mickey's, a buffet; Fairytale Dining with several Disney princesses; Playhouse Disney's Play 'n' Dine, for younger children who might like characters like Handy Manny; and Donald's Safari Breakfast, which serves American and African-inspired dishes.
But Disney isn't the only place that will let you dine with characters. Nickelodeon Suites Resort brings SpongeBob Squarepants and Dora the Explorer right to breakfast. Island of Adventures (part of Universal Orlando Resort) has a restaurant called Confisco Grille, where characters like Spider-Man and The Cat in the Hat can share a pancake with you. Sesame Street fans can share breakfast with Elmo, Big Bird, Grover, and other friends from Sesame Place at SeaWorld Orlando — but perhaps most unique of all is the chance to "Dine With Shamu"! Simultaneously eat and get a behind-the-scenes peek at Shamu, the whales, and their trainers.
Additional Resources: Find Urbanspoon's Best Orlando restaurants or get more information about character dining.
Other Attractions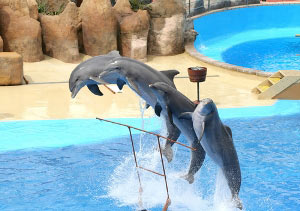 Orlando offers plenty of chances to see marine animals up close
There is no shortage of activities in Orlando. Theme parks obviously play a major role in the city's development and economy. Disney, Universal, and SeaWorld are the biggest parks, but Gatorland and Wet 'n' Wild Water Park hold their own, too.
Disney is divided up into several smaller parks, including Magic Kingdom (celebrates fairytales), Epcot (celebrates human achievement), Hollywood Studios (formerly MGM, and celebrates old Hollywood), Animal Kingdom (celebrates animals), and Downtown Disney (a boardwalk). Visitors could easily spend an entire day at each, possibly more.
SeaWorld houses a slew of animal-related exhibits, in addition to roller coasters and a water park. So moments after guests splash down a water slide, they can put a sting ray or see an Orca whale up close. SeaWorld also encompasses Aquatica, which features animals from Australia and New Zealand, and Discovery Cove, where guests can interact with marine animals, like dolphins.
Universal Orlando is similarly broken up into three parks: Universal Studios Florida, which has an entertainment industry theme (particularly in movies and television); CityWalk, similar to a Boardwalk, with shopping, entertainment, and food; and Islands of Adventure, which has a "journey of exploration" theme. This park is where Seuss Landing, Marvel Super Hero Island, and the Wizarding World of Harry Potter can be found.
Aside from theme parks, Orlando has five different shopping malls to choose from. The Florida Mall is the largest in the city, and is overall one of the biggest single-story malls in the entire nation. The Mall at Millenia has upscale shopping (Neiman Marcus, Bloomingdale's), while Orlando Fashion Square and Festival Bay Mall offer a variety of shops to choose from.
Additional Resources: Find information about what to do in Orlando or read reviews from people who have been there.
Transportation
More than 50 million tourists visit Orlando each year, with nearly 4 million of those being international tourists. It makes sense, considering Orlando is also home to one of the busiest airports in the world, Orlando International Airport. Two other airports exist in Orlando, although one (Orlando Executive Airport) is mainly for small plans and flight training schools.
Rails, trains, buses, taxis, airport shuttles — all of these modes of public transit have a place in Orlando. The main mode of transportation in Florida, however, is by car. Several major routes and highways curve through the city. While there are certainly traffic issues, particularly during rush hour, there are various resources to assist with that.
Additional Resources: Worried about traffic? Call 5-1-1, a free traffic advisory service in Florida. Flying in? Try Orlando International Airport.