Florida Guide
Quick Facts
| | |
| --- | --- |
| Capital: | Tallahassee |
| Population: | 19,317,568 |
| Nicknames: | The Sunshine State |
| Resources: | Official Website |
About
Florida receives more than 60 million tourists and visitors each year, many of which enjoy the miles and miles of coastal beaches and amusement parks. In 2011, Florida was the top destination state. Some of Florida's iconic animals, including the American alligator, crocodile, and manatee, can be found in the state's Everglades National Park.
Sports
The state of Florida has several major league professional sports teams: two MLB, two NHL, and three NFL. Nearly half of Major League Baseball spring training takes place in Florida each year. The state first gained prominence in athletics in 1966 with the Miami Dolphins. Now, it's a mecca for sports, including minor league baseball, football, basketball, ice hockey, soccer, and indoor football, as well as golf, tennis, and NASCAR. In fact, several auto-racing tracks are included in the state, such as the famous Daytona International Speedway.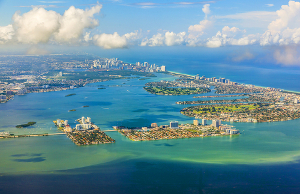 An aerial view of Miami
Teams include: Miami Dolphins; Miami Heat; Miami Marlins; Florida Panthers; Tampa Bay Buccaneers; Tampa Bay Rays; Tampa Bay Lightning; Orlando Magic; Jacksonville Jaguars.
Concerts
Thanks to the state's ethnic diversity, Florida has a wide range of music styles, including punk rock, salsa, and heavy metal. Miami has gained a strong reputation in the recording industry, beginning in the 1970s with Criteria Studios. Music by Bob Seger, Fleetwood Mac, The Allman Brothers Band, and Lynyrd Skynyrd has all been recorded in the city. In the late '90s, Orlando churned out pop music acts, including boy bands like Backstreet Boys, 'NSYNC, 98 Degrees, and O-Town.
Florida rappers, like Flo Rida, Rick Ross, Trina, and T-Pain have also hailed from Florida. Latin pop, Miami bass, rock, country, and punk have all carved their own scenes, too. Notable acts from Florida include Matchbox Twenty, Gloria Estefan, and Marilyn Manson. Each year, Florida also plays host to the Florida Music Festival, a joint concert and conference that boasts all things musical. There are music lessons, recording sessions, rehearsals, and everything in between.
Venues include: Cruzan Amphitheatre; American Airlines Arena; James L. Knight Center; House Of Blues (various); Tampa Bay Times Forum; St. Augustine Amphitheatre; Hard Rock Live (various).
Theater
Every year, The Florida Theatre in Jacksonville offers 200 cultural and entertainment events. Not only are pop, jazz, rock, country, and blues events held here, but also community shows as well. A substantial theater scene exists in the Orlando metropolitan area. Broadway tours regularly frequent the Bob Carr Performing Arts Centre. Orlando is also home to its own resident Cirque du Soleil show. La Nouba has been performed in Downtown Disney since 1998.
Venues include: Ziff Opera House At The Adrienne Arsht Center; The Florida Theatre; Downtown Disney; James L. Knight Center; Sharp AQUOS Theatre - Universal Studios Orlando; Magic Kingdom Theme Park; Amway Center; Bob Carr Performing Arts Centre.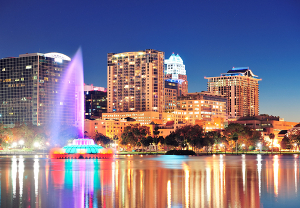 Orlando, FL
Dining
Florida is marked by something known as "Floribbean cuisine," which can eb found in various restaurants and homes throughout the state. "Floribbean" dishes are heavily influenced by the cuisines from across the world, especially the Caribbean — Haiti, The Bahamas, Barbados, Jamaica, and Trinidad and Tobago among them. A subdivision, referred to as "Latin-Floribbean" or "Hispano-Floribbean" uses Latin America cuisine from places like Puerto Rico and Brazel, to create an entire new experience. In other twists on the "Floribbean" cuisine, there is also "Afro-Floribbean" and "Indo-Floribbean." Floribbean cuisine typically emphasizes fresh ingredients; various spices; seafood/poultry; citrus and fruit flavors; and a more natural appearance, rather than a "decorated" dish.
Additional Resources: For a list of restaurants, try Business Insider's guide or UrbanSpoon.
Other Attractions
Walt Disney World Resort, located in Lake Buena Vista, is one of Florida's biggest draw. It is the largest vacation resort in the entire world, consisting of four theme parks and more than 20 hotels. Universal Orlando Resort — which now includes Islands of Adventure and the Wizarding World of Harry Potter — is another adventure park, as well as Busch Gardens and SeaWorld. Many tourists opt to visit any of the beaches spanning the thousands of miles along the coast, or other Florida landmarks, such as the Kennedy Space Center.
Additional Resources: Find information about Florida destinations or check out attractions by city.
Transportation
Several public transportation companies manage the large state's travel in and out of each city. In Miami, for example, it's Miami-Dade, while Orlando uses LYNX bus system. It is possible to get around in major cities via public transportation, like busses and rail services, but most in Florida drive. The state is also home to several major airports, including Miami International Airport, Orlando International Airport, Fort Lauderdale-Hollywood International Airport and Tampa International Airport.
Additional Resources: For travel information, read up on Florida transportation.