Honolulu Guide
Quick Facts
| | |
| --- | --- |
| Located in: | Hawaii |
| Population: | 390,738 |
| Nicknames: | Paradise; The Big Pineapple; Sheltered Bay, Crossroads of the Pacific |
| Resources: | Official Website |
About
As the island's largest city, Honolulu tends to be the gateway for tourism in Hawaii, a favorite vacation spot of many. More than 6 million visit the city of Honolulu alone each year. Honolulu embodies many smaller districts in the city, including the island of Oahu and Wakiki, both of which are huge draws for tourists.
Oahu is the site of the Pearl Harbor memorial, while Wakiki is home to a stunning, white sand beach. Attractions include the Ala Moana Center; Diamond Head; Honolulu Zoo; and Wakiki Beach. The television shows "Hawaii Five-0" and "Lost" have both been filmed in Honolulu.
Theater
Though the island is isolated from the contiguous 48 U.S. states, Hawaii's theater life is every bit as vibrant as that of New York City.
The Hawaii Theatre is located in downtown Honolulu and has been called "The Pride of the Pacific." It opened in 1922 as a Vaudeville theatre, and it's not listed on the state and national registers of historic places. Outside The Hawaii Theatre was the largest marquee sign ever built in Honolulu. Although the theater suffered a decline in popularity throughout the years, it was restored in the 1990s and has now become a stable for theater shows and concerts.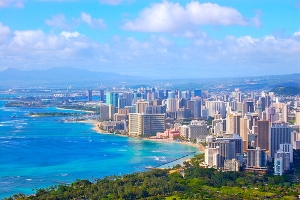 A view of Wakiki from Diamond Head, a crator near Diamond Head Theater.
Diamond Head Theatre is another Honolulu theater favorite, dating back to 1915. As Hawaii's oldest performing arts center, Diamond Head Theatre not only offers performances, but acting classes and opportunities for those interested in behind-the-scenes work as well. Diamond Head, named after the crater near which it lies, calls itself the "Broadway of the Pacific."
But perhaps the most popular theater is not a theater at all, but a multi-purpose complex that combines an arena, concert hall, and exhibition hall. The Neal S. Blaisdell Center in downtown Honolulu is home to Hawaii Opera Theatre. Many traveling Broadway shows, like Phantom of the Opera and Rent, have stopped here on their tours.
Venues include: Diamond Head Theatre; Hawaii Theatre; Neal S. Blaisdell Center
Concerts
Many touring musical acts stop in Honolulu. In the 1960s and 1970s, Elvis Presley held sold-out concerts in Honolulu at the Neal S. Blaisdell Center. His world-famous "Aloha from Hawaii" concert was held here in 1973. (A bronze statue of Elvis Presley is now outside the venue.) The Neal S. Blaisdell Center is also home to the Hawaii Symphony Orchestra, which was formerly known as the Honolulu Symphony Orchestra. Honolulu is also a center for Hawaiian music, which ranges from modern rock and hip hop to traditional Hawaiian folk music.
Venues include: Hawaii Theatre; Neal Blaisdell Center Concert Hall and Arena; Wakiki Shell
Sports
Due to the warm weather in Honolulu, many sports activities are year-round. Men's Fitness magazine even named Honolulu the fittest city in the entire U.S. in 2004. Its arena, Neal Blaisdell Center, has hosts NBA men's and women's basketball games, as well as volleyball games for Hawaii Pacific University. The NCAA Hawaii Bowl and the NFL Pro Bowl are held in Honolulu.
However, Honolulu currently has zero professional sports teams. Efforts to establish the Hawaii Hurricanes, of the American Basketball Association, and the Honolulu Hurricanes, the Hawaii Hammerheads, and the Hawaiian Islanders (all indoor football teams) all fell by the wayside.
Instead, the city of Honolulu focuses on races. Ironman Hawaii was first held in Honolulu in 1978. It's the yearly culmination of a series of Ironman triathlon qualification races that include the Waikiki Roughwater Swim, the Around-Oahu Bike Race, and the Honolulu Marathon. The Honolulu Marathon, which has more than 20,000 participants each year (many from Japan), is one of three major races held each year in Honolulu. The other two races are the the Honolulu Triathlon, held in May as an Olympic distance event, and the Great Aloha Run, which happens each year on Presidents' Day.
Honolulu's university sports are heavily supported in the city, including the football, volleyball, basketball, rugby, and baseball teams of the University of Hawaii at Manoa.
Teams include: University of Hawaii at Manoa football, volleyball, basketball, rugby, and baseball teams
Dining
Honolulu dining is an eclectic mix of American, Chinese, Filipino, Korean, Polynesian, and Portuguese cuisine. Poke bowls (raw salads typically served as an appetizer) are a staple in Hawaii, while many restaurants offer what's known as a "plate lunch," which features two scoops of rice, a macaroni and mayonnaise-type salad, and various toppings, like a fried egg, kalua pig and beef, or curry. Coconut, taro, arrowroot, and jicama are popular fruits, vegetables, and nuts; Spam, beef, and fish are also wildly popular. Typical foods specific to Hawaii include oxtail soup, saimin, maui hot dogs, linguica, huli-huli, and ahi.
Additional Resources: Find a list Honolulu Magazine's recommendations or check out these peer-reviewed restaurants.
Other Attractions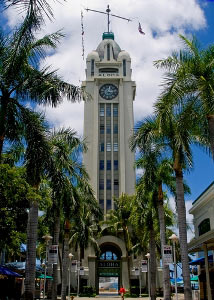 Aloha Tower
As visitors enter Honolulu, most are greeted by what's known as the Aloha Tower. It's possible to visit the tower, which is actually a lighthouse, that's considered one of the landmarks of Hawaii. For nature and animal lovers, Honolulu is home to the Honolulu Zoo (the main zoological institution on the island), the Wakiki Aquarium, Foster Botanical Garden, Lili'uokalani Botanical Garden, and Walker Estate.
Tourists can fulfill their learning needs by visiting the Bishop Museum, which houses a collection of Hawaiian and Pacific cultural artifacts, or any of Honolulu's art museums. The Contemporary Museum has two locations in Honolulu — downtown and in Makiki — and the Honolulu Museum of Art boasts the biggest collection of Western, Islamic, and Asian art in all of Hawaii.
In the Doris Duke Theatre, (located inside the Honolulu Museum of Art), the organization hosts a film and video program. Film is also celebrated Annually at the Hawaii International Film Festival (known as HIFF) that showcases some of the best movies from producers across the Pacific Rim. Several historical landmarks can be found in Honolulu, too, including the Pearl Harbor memorial on the island of Oahu.
Wakiki is a beachfront neighborhood in Honolulu with a white sand beach shoreline. It has several public places, such as Kahanamoku Lagoon and Ala Wai Harbor. Hanauma Bay at one time suffered from overuse, but is now home to the Hanauma Bay Nature Preserve in order to protect the more than 400 species of fish, turtles, and other sea creatures in the area.
Additional Resources: Find information about walking tours in Honolulu or check out a full list of Honolulu attractions.
Transportation
Although the word "traffic" is unlikely to come to mind when someone hears "Honolulu," the city is actually ranked as having the worst traffic in the nation — beating out famously congested Los Angeles. There are several highways and interstates that run through the state, however, including Interstate H-1; Interstate H-201; Pali Highway; Likelike Highway; Kalanianaole Highway; and Kamehameha Highway.
However, Honolulu has twice been recognized for its excellence in public transportation in the form of TheBus — a public bus system. TheBus is operated by the nonprofit group Oahu Transit Services and the city's Department of Transportation Services. The program has more than 500 buses that travel across 107 routes in Honolulu, ranking it as the 4th highest per-capita use of mass transit in the entire nation.
Kalaeloa Airport and Honolulu International Airport are two airports that service the city, though the latter is much larger. Honolulu International Airport is one of the busiest airports in all of the U.S, while Kalaeloa is part-civilian airport, part-military.
Additional Resources: TheBus serves the city and county of Honolulu. Flying in? Try Honolulu International Airport or Try Kalaeloa Airport.