Chicago Guide
Quick Facts
| | |
| --- | --- |
| Located in: | Illinois |
| Population: | 2,707,120 |
| Nicknames: | The Windy City, Chi-Town |
| Resources: | Official Website |
About
In 1885, with the creation of the first steel-framed high-rise building, Chicago ushered in the skyscraper era. Although many cities followed suit, Chicago's skyline remains one of the world's tallest and most dense. In fact, the two largest towers in the U.S. are located in the city — the former Sears Tower, now known as Willis Tower, and the Trump International Hotel and Tower. Hailed for its outdoor, public art, Chicago adopted the phrase "City in a Garden" back in the 1800s to encompass the desired feel for the city. It now has more than 552 parks, 33 beaches, museums, two world-class conservatories, 10 bird and wildlife gardens, and 16 historic lagoons. The city is also known for its contributions in pop culture, music, and sports.
Theater
Chicago influenced the musical of the same name, which is set in the city during the Prohibition-era. Chicago, the musical, opened in 1975 on Broadway, where it ran for 936 performances. It later became an Academy Award-winning film, and also returned to Broadway in 1996. The show still runs today, making it the third longest-running production in Broadway history.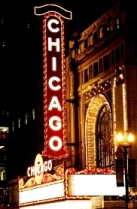 Chicago Theatre
Theatre shows in Chicago, the city, rival that of NYC's own Broadway, with several "Broadway in Chicago" shows each year. The theatre scene in Chicago is currently home to more than 200 small (but critically acclaimed) theatre companies, many of which are ensemble-based. Touring productions frequently visit the city. A U.S. historical landmark, Chicago Theatre was built in 1921 and has offered film showings and traditional live theatre performances for more than 90 years.
Modern improvisational comedy got its start in Chicago, where two well-known comedy troupes, The Second City and I.O. (previously ImprovOlympic), still reign. Second City is where many comics got their start, including Joan Rivers, Fred Willard, Tina Fey, Gilda Radner, Tim Meadows, and Stephen Colbert. Amy Poehler, Seth Meyers, Chris Farley, Mo Collins, and Rachel Dratch were all part of I.O.
Ballet and opera shows have gained significant popularity in Chicago as well. The Civic Opera House is home to the Lyric Opera of Chicago; meanwhile, the Lithuanian Opera Company of Chicago performs shows in Lithuanian. Chicago Festival Ballet and The Joffrey Ballet perform classic dance in various venues throughout the city; other modern and jazz dance troupes have also gained a strong following.
Venues include: Broadway In Chicago's Ford Center for the Performing Arts Oriental Theatre; Broadway In Chicago's Bank of America Theatre; Broadway In Chicago's Cadillac Palace Theatre; Auditorium Building of Roosevelt University; Broadway In Chicago's Broadway Playhouse at Water Tower Place
Concerts
Blues, jazz, classical, soul, and gospel music have all played a significant role in the development of Chicago's music scene. The Chicago Symphony Orchestra is hailed as one of the best orchestras in the world, and even has a diverse and multicultural component called the Chicago Sinfonietta. House music, and hip-hop, were both heavily influenced by this city. In the 1980s, punk and new wave found its place, as well as a significant rave culture, and a decade later, Chicago was home to an alternative rock scene.
When the weather turns warm, Chiago plays host to a slew of outdoor concerts. Several music festivals are held in Chicago, featuring indie rock music acts. Lollapalooza, Pitchfork Music Festival, and Grant Park Music Festival are some of the big ones. Chicago, the band, formed in the Illinois city back in 1967; the band is currently around today.
Venues include: United Center; UIC Pavilion; Soldier Field; Jay Pritzker Pavilion
Sports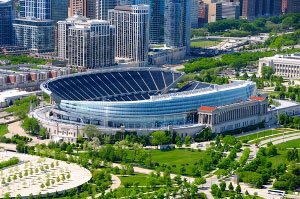 Soldier Field
In 1993, 2006, and 2010, Chicago was named the "Best Sports City" in the U.S. by The Sporting News. The city boasts two MLB teams (Chicago Cubs and Chicago White Sox), an NFL team (Chicago Bears), and an NBA team, Chicago Bulls, that launched the career of Michael Jordan, arguably one of the most famous basketball players of all time. In the time Michael Jordan was part of the Bulls, the team won six NBA championships in just eight seasons.
Chicago's NHL team, the Blackhawks, have won four Stanley Cups. Of the city's five major teams, only the Chicago Cubs haven't won a recent championship. As of 2013, it's been 105 years since. Several area colleges, however, provide Chicago with some Division I conference teams, including DePaul University, Northwestern University, Chicago State University. Each year, Chicago is also host to the Chicago Marathon, one of the five World Marathon Majors.
Teams include: Chicago Cubs; Chicago White Sox; Chicago Bears; Chicago Bulls; Chicago Blackhawks; Chicago Lions; Chicago Griffins; Chicago Wolves; Chicago Fire; Chiago Rush; Chicago Red Stars; Chicago Force; Windy City Rollers; Chicago Bandits; Chicago Sky
Dining
In just the upscale shopping area along State Street and the Magnificent Mile, there are thousands of restaurants to choose from. Taste of Chicago, held annually in the summer at Grant Park, offers an eclectic selection of Chicago eats. Vegetarian cuisine has also found a place in the city; there are 22 vegetarian restaurants, and many others try to be vegetarian-friendly.
Chicago has several signature food items, too. Deep-dish pizza is believed to have originated in Chicago, although Chicago-style thin crust is also popular in the city. A Chicago-style hotdog is Vienna Beef with toppings that typically include yellow mustard, tomatoes, dill pickles, pickle relish, pickled sports peppers, a poppy seed bun, and celery salt. (No ketchup allowed!) Then there's the jibarito, a Puerto Rican-inspired sandwich made from fried plantains instead of bread; a Maxwell Street Polish, which is a deep-fried or grilled kielbasa on a hot dog roll with onions, peppers, and mustard; or the mother-in-law sandwich (a tamale with chile).
Additional Resources: For a compilation of the "best" in Chicago dining, check out Chicago Magazine's top picks. Eat at Zagat-rated Chicago Restaurants or opt instead for a comprehensive guide to all of the city's places to eat.
Other Attractions
Perhaps "sandy beaches" isn't exactly the imagery conjured when one hears Chicago, IL. But maybe it should be.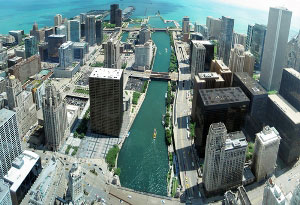 A view of the Chicago River
The city has 33 public beaches, after all, and a Navy Pier loced east of Streeterville. Navy Pier has a ferris wheel that stands 150 feet tall and attracts 8 million people each year, in addition to its numerous stores, restaurants, and museums. The Chicago Yacht Club's Race to Mackinac kicks off at Navy Pier as well.
Art has a prominent place in the city, and there are numerous large, outdoor works, like the Chicago Picasso by Alexander Calder and Cloud Gate by Anish Kapoor. A reflective cloud sculpture can be found in Millennium Park, located inside of Grant Park, where there's also an outdoor restaurant converted into an ice rink during the winter.
An ethnically diverse city, Latino cultural attractions are predominant in Chicago as well, with a Puerto Rican Day parade, Humboldt Park's Institute of Puerto Rican Arts, and National Museum of Mexican Art. There are also aquariums, museums, zoos, and plenty of places to shop.
Additional Resources: Find a list of Chicago attractions or more information about the Chicago parks.
Transportation
Chicago has larger streets than most western and east coast cities, in order to keep the city from feeling engulfed by its skyscrapers. (In fact, most residential streets have a wide patch of grass or trees between the street and the sidewalk to keep pedestrians on the sidewalk away from street traffic.)
However, many travel by mass transit rather than driving. Regional Transportation Authority manages Chicago mass transit, and options include trains, buses, taxis, boat water taxis, and bicycling. There are also two major airports, Chicago Midway International Airport and O'Hare International Airport.
Additional Resources: Mass transit info is available at RTA Chicago's website. For flight listings, visit O'Hare International or Fly Chicago.