Boston Guide
Quick Facts
| | |
| --- | --- |
| Located in: | Massachusetts |
| Population: | 625,087 |
| Nicknames: | Beantown, The Walking City |
| Resources: | Official Website |
About
Boston, the capital of Massachusetts, has unofficially come to be known as the "Capital of New England" It's the largest city in New England with a population of more than half a million. One of the oldest cities in the U.S., Boston is home to several historical landmarks, including the Boston Tea Party and the Battle of Bunker Hill.
Theater
Boston offers a robust theatre scene, with its own Theatre District just steps away from the Boston Common. Several Broadway shows stop in this city each year for extended stays, including big-name shows like "Jersey Boys" and "Mary Poppins." Blue Man Group has called Boston's Charles Playhouse home for years. A bustling nonprofit theater program, as well as a college dramatic arts scene, are all part of the city of Boston.
Venues include: Boston Symphony Orchestra; Boston Opera House; Boston Colonial Theatre; Cutler Majestic Theatre; Colonial Theatre; Wang Theatre; Calderwood Pavilion; Wilbur Theatre; Shubert Theatre; Charles Playhouse
Concerts
It wouldn't be a tour if it didn't stop in Boston. With everything from large stadiums like TD Garden and Fenway Park to intimate venues like House of Blues, most artists are sure to add Boston to its tour. Contemporary classic music has become a major part of Boston, with several performing groups (such as Boston Musica Viva and Boston Modern Orchestra Project) that are associated with the city's conservatories and universities.
As one of the birthplaces for hardcore punk, Boston was leading area for third wave ska and ska punk in the 1990s. With a slew of performance halls, it's no wonder why Boston is so popular with musical acts.
Venues include: House of Blues; TD Garden; Gillette Stadium; Agganis Arena; Bank of America Pavilion; Carnegie Hall
Sports
With more than 30 championship wins from its four major North American professional sports leagues, Boston is a top contender when it comes to sporting events. It was the site of the first World Series game in 1903 between the Red Sox and the Pittsburgh Pirates.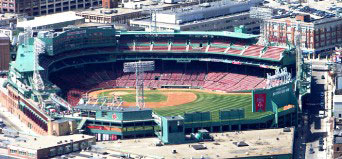 Fenway Park
The history of the Red Sox is intertwined with Boston history; the team has brought some of the most well known sports players to the city, including Babe Ruth. Many even believed the "Curse of the Bambino" plagued the team until 2004, causing the Sox to lose every World Series game from 1918 to 2004. (The curse originated when Babe Ruth, sometimes called The Bambino, was sold to the New York Yankees.)
Other prominent Boston teams include Boston Bruins, Boston Celtics, and New England Patriots.
Then there's its college athletics, cemented with four NCAA Division members. They includes Boston College, Boston University, Harvard University, and Northeastern University. The Boston Marathon, an annual 29-mile run from Hokinton to Copley Square, is the world's oldest annual marathon. The list below includes some of Boston's beloved sports teams.
Teams include: Boston Bruins; Boston Celtics; Boston Red Sox; New England Patriots; New England Revolution; Boston Breakers; Boston Cannons; New England Riptide; Boston Massacre; Boston Militia
Dining
Whether it's American, French, or Indian cuisine you're craving, or something budget-friendly versus something decadent, Boston's never-ending list of restaurants has a little something for everyone. Want something that feels like a home-cooked meal? Try the beef stew at AKA Bistro. The Knotty Pine Lunch, which has been around for more than 50 years, offers breakfast, while Desfina is home to kebabs.
Additional Resources: Eat at Zagat-rated Boston Restaurants or opt instead for the top 50 picks from Boston Magazine.
Other Attractions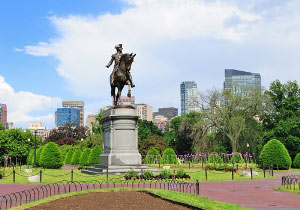 Boston Common
Boston has a little something for everyone. For a serene walk in a park, try Boston Public Garden, or to spend a little money, Quincy Market is a favorite for both tourists and locals (not always an easy feat!).
Art museums, like the Museum of Fine Arts and the Isabella Steward Gardner Museum, host everything from Mayan ceramics to the silverware of Paul Revere.
Boston Common is the starting point to the Freedom Trail, and the long list of historical landmarks and museums only just begins there. Explore the Paul Revere House, see the Bunker Hill monument, and visit the Old North Church along your Boston journey.
Additional Resources: Find a list of Boston attractions, more information about the Boston Common, or check out the Boston Children's Museum.
Transportation
It's not uncommon for many residents and tourists to be walking from place to place. Boston is, after all, often called "the walking city." Trekking by foot is encouraged by the city, which makes safety while walking of prime importance. Several walking tours coincide, including the Freedom Trail, the nation's first historic walking tour. Boston is also bicycle-friendly.
Although parking can, at times, be a challenge, driving is a major source of transportation. Just be aware of the city's historic cobblestone streets, which are stunning, but can be difficult for those with SUVs. Car-sharing and vanpools are encouraged. Massachusetts Bay Transportation Authority — better known as MBTA — provide trains, busses, and subway to lug people across the city; there's also taxis, coach buses, and even a boat option.
Additional Resources: Walking? Try the Freedom Trail Walking Tour while you do. The MBTA Website provides transportation fares, as well as MBTA boat information.