Las Vegas Guide
Quick Facts
| | |
| --- | --- |
| Located in: | Nevada |
| Population: | 583,756 |
| Nicknames: | Vegas; Sin City; The Gambling Capital of the World; The Entertainment Capital of the World; The Marriage Capital of the World |
| Resources: | Official Website |
About
The most populous city in Nevada, Las Vegas is one of the biggest markets for theater and concert productions worldwide. Funny or serious, Sin City usually attracts the most talented stage actors to play fascinating roles. Many productions settle down permanently in Vegas in order to provide entertainment for the endless stream of tourists who come to the area. Favorite Vegas theater events include Jersey Boys and Cirque du Soleil. Performers like Celine Dion, Elton John, and Tim McGraw have made Vegas their home, performing shows night after night to eager crowds.
Over the years, Vegas has become a popular setting for television shows and movies. Its exquisite light display has become iconic in the U.S. "The Strip," a 4-mile stretch of Las Vegas Boulevard, is not technically part of the city, though it is nearby; from there, tourists can see the city's use of dramatic architecture.
Theater
Theater in Vegas offers a little something for everyone — traditional theater, magic, comedy, adult, or Vegas specialty. Resident theater shows have become a huge part of the Las Vegas experience. That includes shows like Cirque du Soleil, including its risqué, adults-only version Zumanity, Ka at the MGM Grand, O at the Bellagio, Criss Angel Believe at the Luxor, and Mystere at Treasure Island. Several Broadway shows have found a home there as well — Million Dollar Quartet and Jersey Boys among them.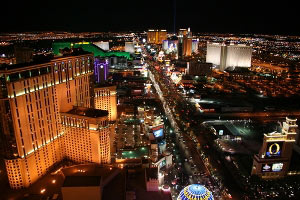 A view of the city from above
Many shows stop in Las Vegas as well, including everything from Disney On Ice programs, to stand-up comedians, to Broadway shows on tour, to local theater renditions. Adult entertainment, which is what gave Las Vegas is famed Sin City nickname. Peepshow, which previously starred Playboy Bunny Holly Madison, and Chippendale shows are among some of the most popular.
For the typical Vegas experience, there are shows like Jubilee!, which features Las Vegas showgirls in elaborate and glamorous costumes, and Vegas! The Show, which pays homage to the famed "Neon Graveyard" in the city.
Venues include: Luxor; Treasure Island; MGM Grand; Bellagio; Theatre for the Performing Arts at Planet Hollywood
Concerts
Celine Dion, Elton John, Shania Twain, and soon, even Britney Spears, will join the ranks of legendary performing artists who have had longtime stints in Las Vegas. But on any given evening, Las Vegas visitors can expect to see the marquees across the city lit up with names of any renowned performer.
Celebrity impersonators — lovingly referred to as impressionists by many in Vegas — have solidified their place in Vegas entertainment. These performers bring icons like Elvis Presley and Michael Jackson to the stage. Events like these also provide Vegas visitors with a chance to see groups or singers in concert — even if the actual performer isn't currently touring. ABBA, The Beatles, and Neil Diamond are among those who have been impersonated, with great success.
Venues include: The Colosseum; House of Blues; Sam Boyd Stadium; MGM Grand Garden Arena;
Sports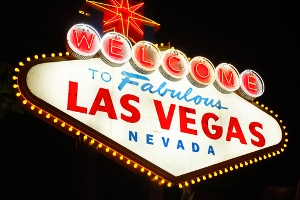 The famous Vegas sign
Although Vegas is a large metropolitan area with a significant population, the city has no major sports league to speak of. Two main reasons are cited for this: potential competition for other entertainment, and (more importantly) betting on legal sports. The city of Las Vegas does, however, have one minor league sports team called the Las Vegas 51s. They are part of the Pacific Coast League. Meanwhile, a United Football League team called the Las Vegas Locomotives, uses the Las Vegas moniker, but plays in nearby Whitney, NV.
Teams include: Las Vegas 51s; Las Vegas Locomotives
Dining
The city of Las Vegas makes "dinner and a show" a must. It has everything from fancy, five-star restaurants to quick (but delicious) eats. The city is rife with celebrity chefs, unique menus, and new foods. Famed chefs who have brought their restaurants to Vegas include Mario Batali, Gordon Ramsay, and Tom Colicchio. There are more master sommeliers in the restaurants in Vegas than in LA or NYC combined, making the city a perfect place for food and wine festivals like Vegas Uncork'd.
Have you ever wanted to try foie gras lollipops? Miso ramen? Honey Toast? Vegan doughnuts? Deep-fried Oreos? A burger topped with an egg? Red velvet pancakes? All of these quirky dishes can be found at various restaurants in Las Vegas, right beside the types of restaurants where a six-course meal in a private room is the norm. Vegas offers the kind of food that will make any foodie go wild.
Additional Resources: Find a comprehensive list of Las Vegas restaurants or search for dining options by cuisine type, location, or price range.
Other Attractions
In Vegas, it's all about casinos and gambling, a tradition that started in 1931 when the opening of La Bayou (then it was known as Northern Club). Casinos, hotels, and adult entertainment make up the majority of Sin City, particularly along the Las Vegas strip.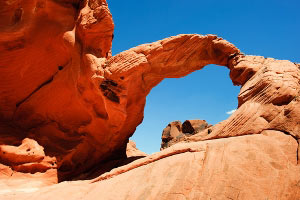 Fire State Park
Interestingly, Las Vegas is home to many parks and museums, including Floyd Lamb Park at Tule Springs, Fire State Park, and Las Vegas Springs Preserve. It's difficult to remember that amid the flashing lights and larger-than-life entertainment, Vegas is located in the middle of a desert, making it prime real estate for outdoor activities. The city offers various golf courses, dog parks, community centers, and sports facilities. Meanwhile, more than 150 animals and plants can be seen at the Las Vegas Zoo.
If there's only time to stop in one museum in Las Vegas, check out the Neon Museum, which houses many of the historical signs from Vegas in years past.
Additional Resources: Find information about what to do in Las Vegas or read reviews from people who have been there.
Transportation
Las Vegas is quite walkable, given how many things are packed into the city's acreage. RTC Transit offers bus service throughout the city, while cars can travel around using various interstates 515 and streets like the Las Vegas Boulevard.