Houston Guide
Quick Facts
| | |
| --- | --- |
| Located in: | Texas |
| Population: | 2,100,263 |
| Nicknames: | Space City |
| Resources: | Official Website |
About
As the third tallest skyline in the U.S. and one of the top 10 in the world, Houston is a bustling city with a diverse population and an ever-growing international presence. Houston is nicknamed the "Space City" due to the location of NASA's Lyndon B. Johnson Space Center. The famed Apollo 13 launched from Houston and, after the shuttle's inhabitants encountered some technical difficulties, the phrase "Houston, we have a problem" was born. (The initial phrase was "Houston, we've had a problem here.") Of the 10 most populated cities in the U.S., Houston is the one with the most parks and green space, topping out with 337 parks.
Theater
With a prosperous performing arts scene, Houston has its own Theater District located downtown. There, year-round resident companies perform everything from traditional plays and musicals to ballet, folk art, and opera. (In fact, Houston Grand Opera has become an internationally renowned opera company since it was created in 1955.)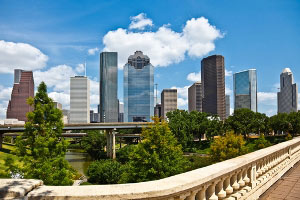 Downtown Houston
As the second largest concentration of theaters in a downtown area in the entire U.S., Houston Theater District is home to six venue halls and nine major performing arts organizations.
Groups include A.D. Players, which produces plays and programs that intend to uphold human value and offer creativity; BooTown, a nonprofit theater group that puts an eclectic spin on things; Catastrophic Theatre, a modern ensemble-based troupe; and the Ensemble Theatre, the largest African-American professional theatre company in the U.S.
Gente de Teatro is among Houston theater groups with a twist. The nonprofit theater group is aimed at the large Latino community in the city. MECA — which stands for Multicultural Education and Counseling through the Arts — gives inner-city youth a chance at education through the arts. Masquerade Theatre performs musicals, but only with Houston-based talent and Mildred's Umbrella Theatre Company has zero budget, instead using set pieces and costumes from each actors' own collection.
Spanning 17 blocks, Houston Theater District tends to attract an array of theater shows, including many Broadway acts. Restaurants, movie theaters, parks, bars, and plenty of entertainment are all part of the Bayou Place, located within the Theater District.
Venues include: Jones Hall; Hobby Center for the Performing Arts; Alley Theatre; Bayou City Performing Arts; Bobbindoctrin Puppet Theater; Frenetic Theater; Miller Outdoor Theatre; Wortham Theater Center
Concerts
Although Houston has not traditionally been known for its music scene, it sees its fair share of big-name acts who make sure to stop in the city on their national and international tours. Venues across Houston also host local and touring rock, blues, dubset, country, and Tejano music acts; Houston hip-hop has even emerged on the indie music scene.
There are several music-based groups in the city as well. Ars Lyrica Houston is a Texas-based group that performs Baroque music on period instruments. The group has been nominated for Grammys since its inception in 1998 by harpsichordist and conductor Matthew Dirst. Bayou City Performing Arts, which is led by Andy Mills, is a Houston-based men's chorus. Houston Chamber Choir performs six concerts annually, while Houston Children's Chorus provides musical opportunities to more than 200 children grades 2-8. The Houston Sympony, founded in 1913, is one of the oldest performing arts organizations in the U.S.
Venues include: Houston Verizon Wireless Theater; Bayou Music Center; House of Blues; Reliant Stadium
Sports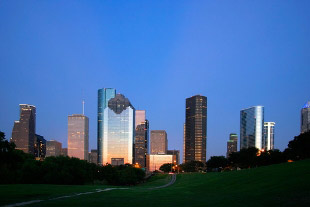 Houston, Texas skyline
With the exception of the NHL, Houston has a sports team in every major professional league. That includes MLB's Houston Astros, who were in the 2005 World Series; NFL's Houston Texans; and NBA team Houston Rockets, formerly of San Diego. The Astros call Minute Maid Park home, while the Toyota Center is home to the Rockets — both of which are located in downtown Houston. Minute Maid Park has a retractable-roof stadium and Reliant Stadium, where the Houston Texans play, was the first stadium in the NFL to also have one. Meanwhile, the Toyota Center has the largest screen for an indoor arena — in the world — built to host the 2013 NBA All-Star Game.
Houston has hosted various sporting events throughout the years, including the 2005 World Series, the 2013 NBA All-Star Game, several NBA Finals, and two Super Bowls. The Shell Houston Open golf tournament is held in Houston, as well as The Shell and Pennzoil Grand Prix of Houston, an annual auto race on the IndyCar Series circuit.
Teams include: Houston Astros; Houston Rockets; Houston Texans
Dining
Houston has been dubbed "the dining-out capital" of the U.S. by USA Today due to the fact that its residents eat out at restaurants more often than residents in any other city. Average prices for food at Houston restaurants tends to be low to support this, too.
Food trucks have gained a big following in the city, encouraging the launch of a nonprofit organization called "Save Our Food Trucks." (The nonprofit assists food truck vendors in getting the proper paperwork to operate.) Tex-Mex cuisine is also wildly popular. The 1st Annual Houston Barbecue Festival was held in 2013.
Additional Resources: For a compilation of Houston eateries, check out DowntownHouston.com's picks or recommendations from Houston Press.
Other Attractions
There are more than 300 parks in Houston, many of which foster homes for local wildlife.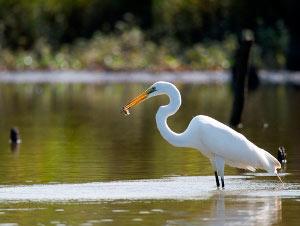 Great Egret at Armand Bayou near Houston
The list includes Hermann Park (where the Houston Zoo and Houston Museum of Natural History can be found), Terry Hershey Park, Lake Houston Park, Memorial Park, Tranquility Park, Sesquicentennial Park, Discovery Green, and Sam Houston Park. The largest (and longest running) livestock show is the annual Houston Livestock Show and Rodeo. It lasts 20 days from late February to March.
As for its arts and museum scene, each year 7 million visitors stop by the Museum District, which includes attractions like The Museum of Fine Arts, Houston Museum of Natural Science, the Contemporary Arts Museum Houston, the Station Museum of Contemporary Art, and Holocaust Museum Houston.
Bayou Bend houses one of the largest collections of decorative art, paintings, and furniture in the entire U.S.; the National Museum of Funeral History can also be found here.
Chinatown, Old Market Square, and Mahatma Gandhi District are also worthy places to visit. Houston's Space Center has several interactive exhibits as well.
Additional Resources: Learn more about Houston parks. For the artsy folk, check out ArtsHound, a nonprofit organization that provides all the latest information about art in Houston.
Transportation
Most in Houston travel by car, utilizing its intricate highway system. More than 70 percent of Houston residents drive to work there, and, as a result, the city has been dubbed the fourth-worst in terms of congestion in the entire U.S. The average commuter spends 58 hours in traffic annually, according to a study.
There are plenty of alternatives to driving, however, including cycling. Houston has the biggest number of commuters in all of Texas. There are more than 160 miles of bikeways and the city is consistently working to expand its bike betwork. Houston B-Cycle, which operates three stations downtown, makes cycling even easier.
Three airports can be found in Houston, as well as Metropolitan Transit Authority of Harris County (METRO), which offers lift vans, light rail, and busses. This is an excellent means for getting around the city, although that's not the case with the suburbs. METRO's light rail began in 2004, and it has plans for expansion to make the transportation system more inclusive. Amtrak currently provides service to Houston, too.
Additional Resources: Most transportation information can be found via METRO's website. To get in on the cycling craze in Houston, check out Houston B-Cycle.